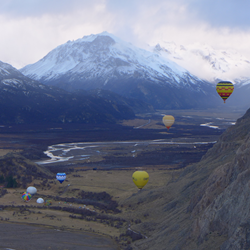 This was a challenge we eagerly welcomed
MIAMI (PRWEB) February 11, 2020
Every two years or so, the sun, moon and earth line up in perfect harmony when the shadow of the moon sweeps across the world and depending on when and where you are, gets between the Earth and the sun casting a shadow over the earth blotting out the sun's disk. While lasting only a few minutes, the experience is remembered for a lifetime. What better way to view a solar eclipse than from a hot air balloon? As the world's second-largest manufacturer of hot air balloons, Ultramagic S.A., thought the same thing. The only issue was how to transport their balloons from Barcelona, Spain, to Argentina, considered one of the best places in the world to view the solar eclipse.
"The operation was very demanding logistics-wise, particularly when importing temporary goods which is what we were doing with our hot air balloons," said Josep Lladó, Founder of Ultramagic S.A. "We had to be certain the balloons arrived on time and were operational soon after delivery. We had a very short launch window and any delay could be disastrous. DB Schenker was the perfect partner to get it done," he added.
"This was a challenge we eagerly welcomed," said Christian Albrecht, Managing Director, DB Schenker Argentina. "It was truly a team effort that involved the coordination and synergy of more than one DB Schenker office - from packing and shipping the balloons via ocean from Barcelona to final delivery in Buenos Aires with all the needed documentation prepared in advance", he added.
For more on this story, visit our blog here.
About DB Schenker Americas
DB Schenker is one of the largest integrated logistics service providers in the Americas with more than 10,000 employees in 123 locations providing over 27 million sq. ft. of distribution operations to its clients. DB Schenker's Americas presence includes Argentina, Brazil, Canada, Chile, Guatemala, Mexico, Panama, Peru, United States, and Venezuela. DB Schenker offers land transport and air and ocean freight, as well as comprehensive logistics solutions and global supply chain management services from a single source. With integrated partners across the Americas, DB Schenker provides the best combination of intimate local practices knowledge and global capabilities.
For more information, go to http://www.dbschenkeramericas.com.
Media Contact:
Daphne Robboy
Senior Marketing Communications Manager, Americas
DB Schenker Americas
800 Waterford Way
Suite 600
Miami, FL 33126
O. +1 (786) 388-4247
M. +1 (786) 650-5857