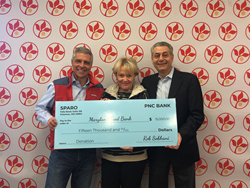 "Sparo is changing the way donations are made to make it easy and fun to support charities," said Rob Sobhani, founder and CEO of Sparo. "
POTOMAC, Md. (PRWEB) February 27, 2019
Sparo Corporation, a developer for the Sparo Community Giving Platform, an early stage technology platform to make charitable giving fun and easy, announced today that it has delivered a $15,000 donation to the Maryland Food Bank to provide 45,000 meals for area families. Sparo's patented platform allows users to find and make donations to charities, and offers charities a chance to win a jackpot donation through its Sparo Sweepstakes.
"Sparo is changing the way donations are made to make it easy and fun to support charities," said Rob Sobhani, founder and CEO of Sparo. "As we get set to launch our platform into the market, we wanted to show our support for the Maryland Food Bank with an upfront donation."
Baltimore-based Maryland Food Bank has faced increased pressure recently helping families impacted by the government shutdown.
"This donation fills a critical need in Maryland with families facing hunger unexpectedly," said Meg Kimmel, executive vice president, programs and external affairs at the Maryland Food Bank. "The effects of the shutdown are proving to be longer lasting than most people realize, and 45,000 meals will go a long way to providing stability to these families."
Sparo aims to make it easy for donors to discover new charities that need their help and will conduct frequent sweepstakes whereby a participating charity is randomly selected to win the jackpot. Frequent donors win gift cards and other prizes. The SparoPrize platform runs online and is currently being beta-tested by the Maryland Food Bank, along with the Omid Foundation and Save a Child's Heart. Sparo partners with Network for Good to distribute funds.
For more information on the Sparo Community Giving Platform, visit https://www.SparoPrize.com.
About Sparo Corporation
The Sparo Community Giving Platform was founded in 2018 to democratize global charitable giving, as a spinoff of the Sparo Corporation's e-commerce platform founded in 2014 by noted author and foreign policy expert turned entrepreneur, Rob Sobhani, Ph.D. Through its patented SparoPrize community giving platform and Sparo Sweepstakes, Sparo aims to make it fun and easy to donate to worthy not-for-profits. Sparo operates globally and is based in the Washington, DC Metro area.
Media Contacts:
Lisa Throckmorton
SpeakerBox (now REQ)
sparo(at)req.co
301-802-3934