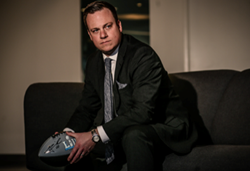 The strategic visibility I'm creating for myself through this partnership with Firestarter allows me to differentiate the exposure of my listings in a competitive luxury market
WASHINGTON (PRWEB) December 05, 2018
Washington, DC's preeminent sports and entertainment real estate agent Jordan Stuart has hired the Alexandria, Virginia personal branding firm, Firestarter. The agency will provide Stuart with an integrated suite of marketing and public relations services and appearance and sponsorship procurement.
"I've been fortunate to create a successful career based on personal relationships. With Firestarter, I aim to amplify what I do every day in-person to create engaging, original digital content," said Stuart. "Frances Reimers and her team at Firestarter are experts at shaping and expanding the personal brand. More importantly, they also understand the kind of content my specific, niche clientele wants and expects. The strategic visibility I'm creating for myself through this partnership allows me to differentiate the exposure of my listings in a competitive luxury market."
For almost a decade, Stuart has been consistently recognized as a Top Producing Real Estate Agent throughout Washington, DC, Northern Virginia, and Montgomery County, MD. His portfolio includes $25M in individual yearly sales on average and advisory touch points with more than 100 active professional athletes and coaches across the NBA, NFL, MLB, NHL, MLS, and UFC. In 2018 alone, Stuart served some of Washington, DC-areas most famous faces such as the Stanley Cup Champion Washington Capitals' left winger Jakub Vrana and head coach Todd Reirdan, and Baltimore Ravens' safety Tony Jefferson.
About Jordan Stuart
For more than 10 years, Stuart has offered a scalable business model for the real estate industry, covering everything from high-end homes to multi-family development projects to residences for first-time home buyers. He is considered a leading expert in the Washington, D.C., Northern Virginia, and close-in Maryland real estate markets. In addition, Stuart serves as the Executive Director of the Sports and Entertainment Division for Keller Williams Capital Properties, offering bespoke and boutique real estate services to professional athlete clientele at both the local and national level. He currently resides in Northern Virginia with his wife and three children. To learn more, visit https://www.stuartgroupluxury.com. Jordan can be found on Twitter @StuartGroupRE and Instagram @jordanstuartgroup.
About Firestarter
Founded by Frances Reimers, Firestarter is a personal brand consultancy located in Alexandria, VA. The firm advises athletes and executives to create, grow, manage, and protect their most valuable professional asset: their brand. Firestarter provides an innovative mix of services that combine traditional marketing and public relations tactics with social media and in-person appearances and events. To learn more, visit http://www.yourfirestarter.com. Firestarter can be found on Twitter @YourFirestarter and Instagram @FirestarterCEO.