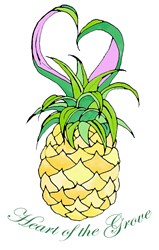 "We are very excited about this program and the opportunity to show how amazing and vibrant the Pineapple Grove area is and what a gem it is within Downtown Delray Beach," says Laura Simon, Associate Director, DDA
Delray Beach, Florida (PRWEB) September 24, 2013
On Friday, October 4th, the Pineapple Grove Merchants have created "Heart of the Grove," a unique arts experience to showcase the new energy and vibe that is within the Pineapple Grove District. Eight of the fine art galleries within Pineapple Grove have agreed to put themselves on the "Heart of the Grove" map granting guest with a Passport access to this special evening. The galleries will profile fine art, provide opportunities to meet the artists, and donate a portion of their proceeds from the sales of the evening to this special organization. The Alliance for Eating Disorders was selected to be the charity of choice as they utilize the creation of art as part of the healing process and many of the pieces will be displayed throughout the evening.
The Heart of the Grove Event is a two-part event, an Art Walk – a strolling event along the sidewalks of NE 2nd Avenue and Artists Alley. It will begin at 5pm where attendees will follow their Passport to each stop among the 8 participating galleries: ICB Gallery, Addison Gallery, Gallery at Studio 5, Ettra, Vincent Cacace Studio, A. Funk, Steele Studio, and Schmidt Stained Glass.
Following the Art Walk, from 7pm – 9pm at the Historic Bungalow on the grounds of the Delray Beach Historical Society, Passport holders are invited and encouraged to attend this VIP Reception to enjoy tasty dishes from the local restaurants such as 3rd and 3rd, Casa Di Pepe, Artistic Artichoke, MaMa's Pizza and more. Art pieces from local artists and students within the Downtown will be available for purchase. Guests can enjoy this beautiful atmosphere while making a difference within the community. "We are very excited about this program and the opportunity to show how amazing and vibrant the Pineapple Grove area is and what a gem it is within Downtown Delray Beach," says Laura Simon, Associate Director, Downtown Development Authority.
"Attendees can purchase their Art Passport Program at the Artistic Artichoke Café, located at 140 NE 2nd Ave. or by phone at 561-703-4204 for $20," states Erinn Beck, Pineapple Grove Event Committee Chair and Business owner. "The passport will provide you with a map of the area and the participating galleries as well as the art pieces that will be part of the Heart of the Grove sale, which a portion of each sale will go towards the charity selected – Alliance for Eating Disorders. The gallery's will stamp each passport so that the holder is eligible to win some incredible prizes at the VIP Art Sale Party." Volunteers from the neighborhood will be guiding attendees through the event and available to assist throughout the evening.
The Pineapple Grove Merchants began meeting in February 2013 as a group to find ways to bring customers to the area. "There are many new galleries, restaurants, unique shops, salons, wellness centers, local pubs and not to mention a very charming atmosphere," expresses Laura Simon. "The business owners within Pineapple Grove love the location and really want to share with the community, the SoHo of Downtown Delray Beach and this will be a fantastic opportunity to meet the business owners and have a fun night in Downtown."
PROGRAM DETAILS:
Date: Friday, Oct. 4, 2013
Art Walk: 5pm-7pm – Walk through Pineapple Grove along NE 2nd and Artists Alley
VIP Reception: 7pm – 9pm – Reception and Sale at 5 NE 1st Street – Delray Beach Historical Society
Cost: $20 per passport and can be purchased at Artistic Artichoke – 140 NE 2nd Ave.
All the details and contact information are available on the website http://www.downtowndelraybeach.com or our Facebook page http://www.facebook.com/delraydda. Visit the site continuous updates as well as register to receive email updates.
About the Downtown Development Authority:
For the past 41 years, the Downtown Development Authority has assisted in successfully branding Delray Beach as the Village by the Sea. The Delray Beach DDA was created by Resolution 9-71, which became law on March 22, 1971, as a dependent district of the City of Delray Beach. The DDA Mission is to enhance and stimulate balanced economic growth through position marketing activities that engage Downtown businesses, residents and visitors while creating a clean, safe, physical and experiential place to live, work and invest. The main areas of involvement in downtown redevelopment include: Marketing and Promotions; Economic development programs; Place Making within the DDA boundaries. The DDA also works closely with merchants to develop seasonal retail awareness campaigns to generate traffic and sales and has created a powerful website http://www.downtowndelraybeach.com and facebook.com/delraydda site that attracts thousands of visits weekly.
The Alliance for Eating Disorders Awareness is a non-profit organization that is dedicated to providing programs and activities aimed at outreach and education related to health promotion, including all eating disorders, positive body image, and self-esteem. The Alliance has worked tirelessly for the past 13 years to prevent eating disorders and promote a positive body image, free from weight preoccupation and size prejudice. This multi-faceted organization offers educational presentations, free support groups for those struggling and for their family and friends, advocacy for mental health legislation, toll-free national phone help line, as well as referrals, training, support, and mentoring services. Since its inception in October 2000, The Alliance has offered presentations on eating disorders, positive body image and self-esteem to more than 175,000 individuals throughout the United States, including in-office learning forums for all health care professionals.
All funds raised at Heart of the Grove will fund our outreach, education, and awareness efforts throughout South Florida. We sincerely appreciate your consideration and hope that you will participate in this important event. For more information, please feel free contact the office at 561-841-0900 or visit us at http://www.allianceforeatingdisorders.com.
Contact: Laura Simon, Downtown Development Authority
85 SE 4th Ave, # 108 - Delray Beach, Fl 33483
(561) 243-1077 Lsimon(at)downtowndelraybeach.com http://www.downtowndelraybeach.com/dda
###