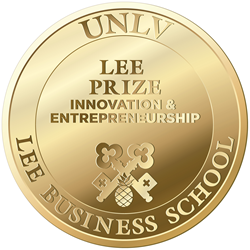 The response has been remarkable, we've received submissions from 25 U.S. states and three countries.
LAS VEGAS (PRWEB) July 02, 2020
The entry deadline for the Lee School Prize for Innovation and Entrepreneurship rapidly approaches on July 5, 2020. The prize competition is a joint collaboration between the Ted and Doris Lee Family Foundation and the Lee Business School at UNLV and aims to speed entrepreneurs in the development of innovations necessary to address the urgent problems facing the hospitality, entertainment and travel industries resulting from COVID-19.
"The response has been remarkable, we've received submissions from 25 U.S. states and three countries," said Leith Martin, Executive Director of the Troesh Center of Entrepreneurship and Innovation at UNLV Lee Business School. "After speaking with hospitality executives nationwide, it is clear that we need solutions in real time." Martin went on to say that those executives noted challenges they've encountered in their first weeks of operation after the shut-down that they would like to see solved. Some of those challenges included "intricacies surrounding seating people safely in stadiums, going cashless in casinos to eliminate the need to clean chips, contact tracing for employees and attendees at large group events, wearable body sensors that monitor more than temperature, and much more."
A committee comprised of the Deans of UNLV's schools of Business, Science, Engineering and Hospitality, along with renowned industry experts, will judge submissions and select prize recipients. The Troesh Center for Entrepreneurship and Innovation within the Lee Business School will then prepare those entrepreneurs to accept investments from the Lee School Prize. Winners will be announced on August 14, 2020.
Prize winners will then use the Lee School Prizes to develop and bring their concepts to an investor marketplace made up of leading corporations, private equity firms, and angel investors. The pairing of innovators with industry leaders will speed up successful outcomes, allowing hospitality employees a safe and comfortable environment in which to work and give guests the ability to travel and seek entertainment with confidence. To assure this quick outcome, products and solutions must be brought to market within twelve months.
For more information about the Lee School Prize, criteria, or to submit a proposal, please visit: http://www.LeePrize.com.
About the Lee Business School at UNLV:
Established in 1967 as the College of Business, the now Lee Business School is one of the largest schools at UNLV with approximately 3,500 undergraduate students, 500 graduate students, and 100 faculty and staff and offers the only accredited business program in Southern Nevada. The school offers ten undergraduate majors, 14 minors and five graduate degrees, including the MBA and Executive MBA programs. Lee Business School is among the top 5% of business colleges and schools worldwide to hold international dual accreditation in business and accounting by the Association to Advance Collegiate Schools of Business, the premier accrediting body for business and management education. In addition to its scholastic endeavors, Lee Business School is home to three centers that bring together faculty and students with business and industry. These include the Troesh Center for Entrepreneurship and Innovation, Center for Business and Economic Research (CBER), and Lied Institute for Real Estate Studies. With more than 20,000 graduates, the Lee Business School Alumni Chapter is one of the largest alumni chapters on campus.