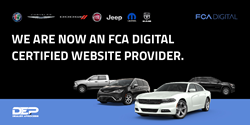 LISLE, Ill. (PRWEB) February 28, 2019
In order to be an FCA Digital Website Provider, the provider or vendor must pass a list of requirements that prove they are among the best in the digital automotive space. Dealer eProcess is proud to have this opportunity to partner with FCA Digital and provide dealerships within this program access to our website offerings.
As an FCA Digital Website Provider customers receive benefits such as automatic submission of PAP funds for certain products and service. The dealer's website and location will be shown on within the "Find a Dealer" tool on the corresponding brand websites. For a full list of programs benefits, please visit the FCA Digital Certified website.
As a Dealer eProcess customer, dealers get to choose from FCA Exclusive Website Designs that are ADA compliant and high-converting. Within each website are key features such as a highly functional SRP (Search Results Page), advanced VDP (Vehicle Details Page), and website personalization. Additional tools include Local SEO and Reputation Management, DriveCentive, DEPi, and more. Spanish language websites are also available through the program.
FCA Certified Website options through Dealer eProcess are available immediately and apply to CDJR, FIAT, Alfa Romeo, and Maserati dealers. Our team would be happy to answer questions in regards to fund reimbursements, billing rules, program lengths, and other details.
About Dealer eProcess
Dealer eProcess is the industry leader in automotive websites and digital marketing. Dealer eProcess has won dozens of awards and is recognized by the experts as the most technologically-superior website and digital marketing solution for automotive dealers. Along with being a recognized leader in and award-winner, Dealer eProcess has also partnered with the best in the business to offer their dealers the most complete digital solution available. Dealer eProcess is a Google Premier Partner, Yahoo/Bing Select Partner, a Reynolds & Reynolds certified provider, and has partnered with numerous other industry-leading solutions. Dealer eProcess is headquartered just outside of Chicago, IL, and has offices in Washington and Arizona. Please make sure to connect with Dealer eProcess on Facebook, LinkedIn, and Twitter. You can learn more about Dealer eProcess on their website: http://www.dealereprocess.com