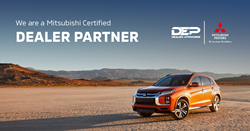 Mitsubishi dealers now have the ability to enjoy all the latest tools and features that Dealer eProcess has to offer and stay within their OEM program guidelines.
LISLE, Ill. (PRWEB) December 06, 2019
Dealer eProcess is proud to announce that it is now part of the Mitsubishi MiDigitalSolutions Website, Digital Advertising, Chat, Trade-In Tool, and Social Reputation Management programs. Mitsubishi dealers now have the ability to enjoy all the latest tools and features that Dealer eProcess has to offer and stay within their OEM program guidelines.
As part of the program, Dealer eProcess dealers get to choose from unique Mitsubishi website designs that are fully responsive and ADA compliant in addition to featuring SSL security. There are high-converting elements within each section of the websites, from the user-focused SRP (Search Results Page) and advanced VDP (Vehicle Details Page) to Voice Search. Enhancing user experience and maximizing conversions are features such as website personalization with targeted banners, Smart Search bar, and customized service offerings. Each website is optimized with dynamic SEO to maximize organic visibility plus the ability to add-on Custom Content which works with the site SEO features and is written in-house.
Combining the clean look and features of the websites, dealers can offer customers a way to get their questions answered at all hours with Dealer eProcess' Integrated Chat Platform. Options range from Dealer-Managed chat with available texting functionality to Co-Managed chat with texting and the ease of AutoBot chat. With the user-friendly chat dashboard dealers have the ability to monitor and jump-in on all chats, regardless of which package they choose.
Dealers will also be able to target their unique set of customers with innovative tools such as Local SEO and Reputation Management. Keeping up with reviews is a full-time job, but with Social Reputation Management dealers will streamline the way the manage their social accounts.
Dealer eProcess was chosen to be a partnered in the Digital Advertising Program in addition to the website program. Dealers have flexibility to choose the types of digital advertising that is suited to their market and their budget with three package options plus add-on items. Some of the key Dealer eProcess digital advertising features include the CARoi: DMS Attribution tool to see profit matched to conversions from the website, digital advertising, and other avenues such as organic. Reaching customers through social media can be done with options for advertising on Waze, Facebook, and Amazon Advertising.
eAutoAppraise, the Dealer eProcess proprietary trade-in tool is also available to Mitsubishi as part of the MiDigitalSolutions program. The newest version of the eAutoAppraise platform takes less than 10 seconds for a customer to complete, and with Google-like predictive search functionality it eliminates extra clicks for the customer and generates leads. Utilizing Blackbook, Kelley Blue Book, or NADAGuides, dealers have a choice of how aggressive they want to be with the value given to a customer for their trade-in.
Mitsubishi Certified website, Digital Advertising, and additional tools through Dealer eProcess is available immediately. To learn more about available products and packages, please visit the program page on the Dealer eProcess website. You can also schedule a demo or contact the DEP sales team at 877-551-2555.
About Dealer eProcess
Dealer eProcess is the industry leader in automotive websites and digital marketing. Dealer eProcess has won dozens of awards and is recognized by the experts as the most technologically-superior website and digital marketing solution for automotive dealers. Along with being a recognized leader in and award-winner, Dealer eProcess has also partnered with the best in the business to offer their dealers the most complete digital solution available. Dealer eProcess is a Google Premier Partner, Yahoo/Bing Select Partner, a Reynolds & Reynolds certified provider, and has partnered with numerous other industry-leading solutions. Dealer eProcess is headquartered just outside of Chicago, IL, and has offices in Washington and Arizona. You can learn more about Dealer eProcess on their website: http://www.dealereprocess.com.