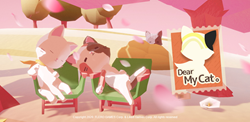 SEOUL, South Korea (PRWEB) August 28, 2020
Flero Games (Ho-Dae Lee, the CEO) announced that global casual game Dear My Cat, which was developed by Likeit Games, opens pre-registration today.
Dear My Cat is a mobile casual game. Players can observe and communicate with cats who travel to beautiful Sky Island, and grow and sympathize with the them. The game features beautiful, enhanced graphic arts and a smooth, relaxing mode specifically to chill out. Pre-registration opens on the Google Play Store, and App Store on the 25th of August.
'Dear My Cat' is the first title of Likeit Games, Flero Games' new studio. The game is being developed using the extensive developing knowledge and skills of team which is well known for 'Mafia Revenge.' 'Mafia Revenge' got gamers' attention for state-of-art graphics and creative work. When Likeit Games' excellent developing skill meets and mixes with high understanding of Flero Games' global services, they will bring brand new experiences to players around the world together.
"Dear My Cat will present you super chill when you just want to relax and take your mind off of the day," said said Sang Min Kim, executive producer of Flero Games. "We're excited for players to see the game soon and we hope that players everywhere will love Dear My Cat."
Also, Flero Games reveals a video teaser that features their art style which is perfectly toned with the game mood on their YouTube Channel. The teaser contains lovely cats having a good time on beautiful Sky Island where fantasy and reality meet. You can watch the cats love spending time sitting around the bonfire or under the cherry blossom tree.
More information about Dear My Cat can be found on their official Instagram and Facebook.