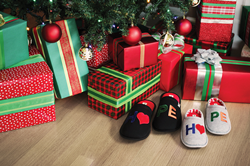 "RMHC provides comfort and support to children and their families when they need it most," said Sheila Musolino, president and CEO, RMHC. "We are grateful to our partners at Dearfoams for their contribution to these services as families brave such difficult situations."
COLUMBUS, Ohio (PRWEB) October 29, 2019
Dearfoams®, America's number one slipper company and brand of Columbus‐based RG Barry Brands, today launched its national "From Our Family To Yours" campaign with Ronald McDonald House Charities® (RMHC). Beginning today through December 31, 2019, 50% of net proceeds from Dearfoams® exclusive Hope slippers – up to $4,000 – will be donated to RMHC along with a seasonal donation of $20,000.
"We are proud to once again partner with Ronald McDonald House Charities® to give comfort to residing families this year," said Dana Seguin, Chief Marketing Officer of RG Barry Brands. "The care and compassion that RMHC® provides to families are second to none. We also look forward to working directly with the families during several volunteer days that we have planned for the company."
"RMHC provides comfort and support to children and their families when they need it most," said Sheila Musolino, president and CEO, RMHC. "We are grateful to our partners at Dearfoams for their contribution to these services as families brave such difficult situations."
Visit Dearfoams.com/Gives to purchase Dearfoams® Hope slippers, available in unisex adult and kids sizes, and to donate directly to RMHC®.
Dearfoams, a brand of RG Barry Brands, was established in 1947 by visionary female entrepreneur Florence Melton who invented the world's first foam‐soled, washable slipper. Dearfoams and its sister brands, baggallini handbags, totes and travel accessories, and Foot Petals premium insoles and comfort products, are headquartered in Pickerington, Ohio.
About Ronald McDonald House Charities
Ronald McDonald House Charities (RMHC), is a non‐profit, 501 (c) (3) corporation that creates, finds, and supports programs that directly improve the health and well‐being of children and their families. Through its global network of over 275 Chapters in more than 64 countries and regions, and its three core programs: the Ronald McDonald House, the Ronald McDonald Family Room and the Ronald McDonald Care Mobile, RMHC helps families with sick children stay together, and close to the medical care their child needs at leading hospitals worldwide. RMHC programs not only provide access to quality health care, they enable family‐centered care ensuring families are fully supported and actively involved in their children's care. For more information, visit rmhc.org. Follow RMHC on Twitter, Facebook, Instagram and LinkedIn.