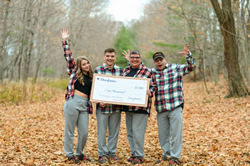 COLUMBUS, Ohio (PRWEB) December 01, 2020
In celebration of Giving Tuesday (December 1) and the holiday giving season, Dearfoams®, America's number one slipper company, is pleased to announce its most recent donation of $10,000 to food banks across America following the conclusion of its "The Family You Choose" holiday giveback sweepstakes. This donation is the latest in Dearfoams ongoing efforts to give back to its communities and support families in need of the comforts of home.
To celebrate the true sense of giving thanks and giving back holiday season, Dearfoams introduced "The Family You Choose" sweepstakes to provide seven lucky winners with the ultimate holiday family feast (a $1,400 value) to enjoy virtually or together. For every entry between October 9 and November 13, 2020, Dearfoams pledged to donate $1 to local food banks across America and was pleased to reach its goal of $10,000.
"In this unprecedented year, the holiday season is an opportunity to refocus on what really matters by uniting those closest to you to sit down and truly enjoy a hassle-free meal together, even if that means it is on Zoom," says Tricia Bouras, Dearfoams President. "Through 'The Family You Choose' sweepstakes, we were not only able to create special memories, but we were also able to help provide food to the millions of Americans that now rely on food banks for help."
As part of the sweepstakes prize, all seven winners were able to select a local food bank of their choice to receive a $1,000 donation on behalf of Dearfoams in their name, contributing support across local food banks in Delaware, Connecticut, Florida, Pennsylvania and more. An additional $3,000 was donated on behalf of Dearfoams to its local community's food bank, Mid-Ohio Food Collective in Columbus, Ohio.
"Being able to give back to where we call home, with a charitable donation is something that is very important to our family," shares Dearfoams "The Family You Choose" sweepstakes winner Christy F. "Being able to make a difference in our community, which has given so much to us over the years leaves us with a full heart and grateful mind. This truly is the most wonderful time of the year and we couldn't be happier to have shared this time with Dearfoams!"
"This amazing donation during these challenging times means so much to our customers and to the communities we serve," said Matt Habash, President & CEO of Mid-Ohio Food Collective. "Every dollar donated can provide up to $9 dollars in groceries. With so many new families coming to us for food assistance for the first time, this generous donation will help provide meals and support as neighbors who are struggling continue to work through this pandemic. We are incredibly grateful for this wonderful partnership."
In 2020 alone, Dearfoams has continued its commitment to local communities across America. It has partnered to get slippers in the hands of healthcare heroes, as well as other means of giving back and providing a little comfort and joy to those in need.
###
Press Contact:
LaForce: Ana Rallis, Dearfoams@LaForce.nyc, 347.852.2619
About Dearfoams: Dearfoams, a brand of RG Barry Corporation, was established in 1947 by visionary female entrepreneur Florence Melton who invented the world's first foam-soled, washable slipper. Dearfoams is headquartered in Pickerington, Ohio. To learn more, visit http://www.Dearfoams.com.