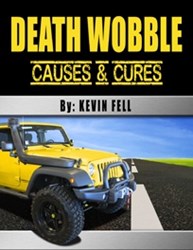 "I've found very few cases in which Death Wobble cannot be cured with a little bit of time invested..." - Kevin Fell
Phoenix, AZ (PRWEB) November 21, 2013
Death Wobble is a violent shaking of the front suspension system in certain vehicles, which is triggered by hitting a bump, pothole, expansion joint, or other imperfection with the passenger front tire, just before the driver's front tire hits the same imperfection in the roadway, typically when driving between 45mph to 55mph. It's prevalent on any solid-axle front suspension system which uses coil springs and a Panhard/track bar, and caused by worn suspension components and misalignment of the front wheels.
Kevin Fell, owner of KevinsOffRoad.com, is pleased to announce the launch of his new book entitled "Death Wobble - Causes And Cures". This volume walks Jeep, Dodge, and Ford owners through a step-by-step checklist, complete with descriptions and graphics, of how to fix Death Wobble suspension triggers in their own driveway or garage.
"I've found very few cases in which Death Wobble cannot be cured with a little bit of time invested, in conjunction with replacing the proper components...it's just that it's really tough to figure out which worn components are the problematic ones," says author Kevin Fell. "The good news is that Death Wobble is completely curable in almost every case. We've had customers and repair facilities come to us over the years, completely baffled as to how to fix it, so I decided to help out by writing this book, and offer them a step by step reference guide with really nice graphics and a complete checklist. With careful inspection, then replacing the correct worn parts with quality replacements, followed by a solid alignment, thankfully people have an excellent rate of success in solving their Death Wobble problem completely," he says.
"Death Wobble - Causes and Cures" was released November 9th, 2013, and is available on Kevin's website at http://www.KevinsOffroad.com.
About KevinsOffroad.com (KOR):
KevinsOffroad.com is the manufacturer of a multitude of suspension parts to solve Death Wobble problems, and also offers unique skid plates, roof racks, winch bumpers, and other expedition and overlanding accessories for people who love to explore nature and camp using their four wheel drive vehicles as a mobile base camp. Founded in 1999 and privately held, KevinsOffroad.com is headquartered in Phoenix, Arizona. To learn more, visit http://www.KevinsOffroad.com.