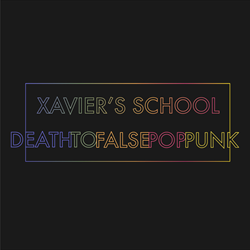 The fact that we are as emo sounding as we are is completely by accident
Bellingham, WA (PRWEB) August 29, 2017
After releasing Stay Bold or Get Old on Tummy Rock Records, the four piece emo pop punk has released their B-sides album Death to False Pop Punk. The B sides feature unreleased tracks recorded earlier, two tracks recorded during a Nervous Energies session, a Promise Ring cover and several songs from debut album Stay Bold or Get Old.
You can find Death to False Pop Punk; https://xaviersschool.bandcamp.com/
Facebook: https://www.facebook.com/xaviersschoolband/
YouTube: Music Video: Eulogy Song
Xavier's School Spotify
"We never had a conversation like 'this is the kind of band we're gonna be.' It was just loosely going to be pop punk," said front man Tyson Ballew in a recent interview with What's Up Magazine "The fact that we are as emo sounding as we are is completely by accident."
You can also check out Xavier's School in their featured Bellingham Soundcheck video released late last year.
Tracks:
1.Honor System Soda
2.Street Legends
3.Sharks
4.Anger MGMT (Nervous Energies session)
5.Still Remember (Nervous Energies session)
6.Street Legends / Sharks
7.Emergency! Emergency! (Promise Ring cover)
8.Eulogy Song
9.Bystander Method
10.Dear Dad
11.Underage Surcharge
About Xavier's School:
Having been a band for a little more than two years they've released a full-length album and and Death to False Pop Punk B-sides. Xavier's School started as a Get Up Kids cover band in 2014, Xavier's School has since grown into their own sound featuring members of Bowl Cut, Cat Heaven.
Buy Stay Bold or Get Old here:
Xavier's School for Gifted Youngsters Musical Ensemble:
Aaron Apple - drums
Aaron Kayser - bass and guitar
Lauren Bunke - keyboard
Alexandra Niedzialkowski - vocals
Tyson Ballew - guitar, bass, and vocals