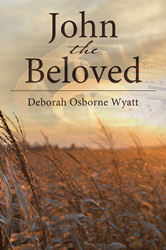 "Although my church tells me that my music is a sin, I've always thought of it as a gift from God…For me, knowing the right words to pray is difficult but when I hear the music and put it on paper, I am praying in a language understood by God. My music is the way I pray and a song of praise to Him."
INDIANAPOLIS (PRWEB) February 19, 2020
Praying to the Lord comes in many forms, as the clarity and loudness of one's "voice" are dependent on the sincerity of what they wish to say. Likewise, the way God responds to His children varies because signs from Him could be in the form of a person one meets, a Bible verse with a particular topic, or even in the littlest of things like road signs. He asks that people take time to quiet down and listen to Him.
In the case of young Elise Snow, it would be leukemia that puts her career on hold and puts her life on hold. Throughout Deborah Wyatt's John the Beloved, the young musician must confront the emptiness in her lonely heart and other personal demons with help from inspiring musical pieces composed by a mysterious stranger who introduces himself as John. Elise also grows close to Marge, a kind-hearted fellow patient who takes care of her in the Cancer Center that she visits for chemotherapy. Despite Marge's own pain in life, she takes Elise under her wing, which gives the latter hope and shows her how strong a woman and mother's love can be.
While exchanging letters and sharing his sheet music with Elise, John Yoder falls deeply in love with her even though the Amish church and community he grew up in would not allow them to be together. He forces himself to accept that he may have to marry the other girls in his community, but his heart says otherwise. Both musicians feel trapped by the circumstances of their lives, and even though they eventually find each other and confess their feelings, they have to overcome many challenges to keep their relationship.
"Although my church tells me that my music is a sin, I've always thought of it as a gift from God," John, an Amish man with an immense talent for music composition, was never able to hear his own creations until he gave the sheet music to Elise. Until then, he was never able to praise the Lord the way he wanted to. "For me, knowing the right words to pray is difficult but when I hear the music and put it on paper, I am praying in a language understood by God. My music is the way I pray and a song of praise to Him."
Like the disciples from centuries ago, many of the Lord's followers today still bear the burden of being possibly silenced while praising and teaching others about Him. Elise rekindles her faith in God with help from John as well as Marge, and she follows in her late grandparents' footsteps as faithful Christians. He then brought His mighty healing hands on her, allowing the young musician to have a better appreciation of the life she's given. She learns that when the Almighty has already forgiven a person's sins, they must not let any shame linger, for it hinders them from praising Him.
"The more I pray and the more I read the Bible, the more I love my God. When I first got saved, I began to look back on my life and some of the sins that I had committed began to haunt me and brought me much guilt…God no longer remembers my sin and if He doesn't hold my past sins—which were forgiven and blotted out by the blood of Christ—then why should I punish myself for things that God Himself has chosen to forget?"