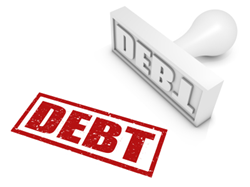 For all of these reasons and more, we are pleased to name National Debt Relief as our highest-ranked service for Debt Relief in 2019.
OVERLAND PARK, Kan. (PRWEB) June 04, 2019
TopConsumerReviews.com has once again awarded their top five-star rating to National Debt Relief, a leader among providers of Debt Relief services.
Every year, it seems that more and more Americans wind up in debt. Sometimes, consumers create their own problems by overspending. But, more recently, many taxpayers got a drastic, unpleasant surprise when they discovered that despite changes in tax law that they thought would be favorable, they owed a significant amount of money to the IRS - and since they were expecting a refund, they had no savings set aside to pay for it. Whatever the cause, people in major debt are often desperate for a solution. Fortunately, there are several reputable services that specialize in Debt Relief: helping consumers renegotiate, settle, or consolidate what they owe and get back on solid financial footing once more.
"If you have unsecured debt of at least $7,500, National Debt Relief can create a custom financial solution for you," according to Brian Dolezal of TopConsumerReviews.com. "This is the nation's leading expert on every type of Debt Relief, from settlement to negotiation and much more: their history of more than 100,000 consumers helped since 2007 is impressive and speaks to the company's effectiveness. After discussing your specific situation with a certified debt counselor, you'll receive a free debt analysis and a plan for paying off your debt for less than what you owe. National Debt Relief has saved their clients thousands of dollars, and there are no upfront fees when starting their service. The company backs its work with a 100% satisfaction guarantee, which is part of what has earned National Debt Relief an 'A+' rating with the Better Business Bureau. For all of these reasons and more, we are pleased to name National Debt Relief as our highest-ranked service for Debt Relief in 2019."
To find out more about National Debt Relief and other Debt Relief programs, including reviews and comparison rankings, please visit the Debt Relief category of TopConsumerReviews.com at https://www.topconsumerreviews.com/debt-relief/.
About National Debt Relief
National Debt Relief helps customers get of debt, with no fees charged for their services until a debt reduction is achieved. Their experienced debt arbitrators have extensive knowledge of all relevant state and federal laws regarding debt negotiation, as well as established relationships with all collection agencies and creditors. The majority of National Debt Relief's customers are able to be completely debt-free within two to four years, using payment plans that are comfortable for their budgets.
About TopConsumerReviews.com
TopConsumerReviews.com is a leading provider of reviews and rankings for thousands of consumer products and services. From Debt Relief to Mortgage Refinance and Personal Loans, TopConsumerReviews.com delivers in-depth product evaluations in order to make your purchasing decision easier.