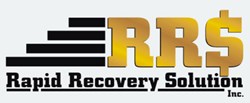 Bohemia, NY (PRWEB) November 28, 2013
Rapid Recovery Solution, Inc. voices its disapproval of high-interest loans targeting servicemen and women.
According to a November 22 article from The New York Times' Dealbook titled "Service Members Trapped In Cycle of Debt," payday loans are crippling the bank accounts of many of America's bravest citizens. Thousands of active duty members are at risk of falling victim to these high-interest monetary advances.
One such soldier, Petty Officer First Class Vernaye Kelly, has publicly opposed the predatory practices of some lenders. "Someone has to start caring…I'm worried about the sailors who are coming up behind me." Officer Kelly sees $350 deducted from each of her bimonthly Navy paychecks to pay off loans with interest rates of nearly 40 percent.
In 2006, Congress passed the Military Lending Act to protect service members from dangerous short-term loans and caps interest rates at 36 percent. However, the law does not cover loans over $2,000 that last for more than three months. Auto-title loans of six months and over are also exempt from the act's protections.
John Monderine, CEO of Rapid Recovery Solution, voices his objections. "Although any group of consumers being victims of predatory loans is worrisome, it is especially unsettling to see service members singled out by aggressive lenders. They often turn to payday loans without fully understanding the ramifications of the commitments. Therefore, it is the responsibility of our armed forces to better educate soldiers on financial matters." Monderine continues. "Any consumer, especially those in the military, curious about how to best satisfy their outstanding loans should turn to the guidance of commercial debt collection agencies.
Founded in 2006, Rapid Recovery Solution, Inc. is headquartered at the highest point of beautiful Long Island. Rapid Recovery Collection Agency is committed to recovering your funds. We believe that every debtor has the ability to pay if motivated correctly. We DO NOT alienate the debtors; we attempt to align with them and offer a number of ways to resolve not only your debt but also all their debts.
#####