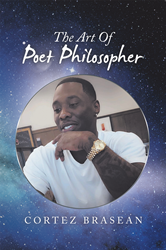 JACKSON, Tenn. (PRWEB) April 06, 2021
In his debut book, "The Art of Poet Philosopher," Cortez Brasean presents a compelling account of the hardships faced and missteps taken in his journey to make sense of a corrupt and cruel world. Through short stories, poems and personal philosophies, Brasean paints a vivid picture of his fight for survival, reflects on the choices that have shaped his life and offers insightful wisdom on finding the higher path.
As Brasean acknowledges throughout the book, people make the choices that are available to them, emphasizing the importance of uplifting others and showing them new possibilities. After Brasean himself made choices that led to incarceration, he discovered an opportunity to transform a negative situation into a positive one. With a renewed perspective, he began writing "The Art of the Poet Philosopher" to show readers that it is never too late to turn their lives around and pursue righteousness instead of destruction.
"I come from a negative environment, and I have made every mistake that you could possibly make but this is not who I am or who I have grown to be," said Brasean. "No matter what I may have lived in my past, I am standing here today saying I am sick of it and I am ready to grow from it and stand on what is righteous."
Through sharing his story, Brasean also illustrates the urgent need for unity, support, encouragement and strong ties within communities to combat the powerful influences of hate, corruption and other destructive forces. Whether readers are struggling on their own path toward prosperity or are looking for ways to uplift and aid others, "The Art of the Poet Philosopher" provides valuable insight into the role each person plays in changing the world.
"The Art of Poet Philosopher"
By Cortez Brasean
ISBN: 9781532099632 (softcover); 9781532099656 (hardcover); 9781532099649 (electronic)
Available from Amazon, Barnes & Noble and iUniverse
About the author
Cortez Brasean was born and raised in Jackson, Tennessee. A lifetime of learning and growing from his mistakes has culminated in his first book, "The Art of Poet Philosopher." Through sharing his own life lessons, he hopes to encourage others, especially youth, to not give up on themselves and inspire them to find the positive in the negative. To learn more about Brasean and his book, please visit cortezbrasean.com.
Review Copies & Interview Requests:
LAVIDGE – Phoenix
480-998-2600 x 586
lstandridge(at)lavidge(dot)com