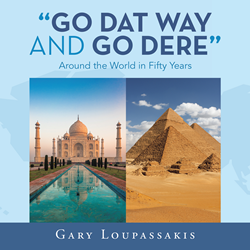 "I want to help people open their eyes to worldwide adventure," Loupassakis said. "This book is not only informative – readers will find extensive information on what to see and do in each country or state – but filled with humor."
WATCHUNG, N.J. (PRWEB) January 23, 2023
A new travel memoir aims to excite and entertain readers, inspiring them to travel the globe and experience the people, cultures, food and history that have shaped their world.
In "Go Dat Way and Go Dere: Around the World in Fifty Years," by Gary Loupassakis, readers are invited on a global journey through the lens of the expertise gained by the author's 50-year career in the travel industry.
The title of the book is a nod to a memorable interaction with a local in the 1980s in Jamaica, and his decades' long experience helping to guide travelers on their excursions.
"What the young man in Jamaica said has stayed in my mind for years, so I decided to use his directions as the name of the book," said Loupassakis. "And If you think about it, as a travel agent I spent my life telling people to go this way and that. So you want to learn where democracy started, well, go that way to Greece. Interested in the Normandy Invasion? Then you have to go this way to the western beaches of France."
Featuring both personal images and text, readers visit must-see sights, learn history and travel tips, and get a taste of globetrotting with Loupassakis, as he recounts personal experiences.
"I want to help people open their eyes to worldwide adventure," Loupassakis said. "This book is not only informative – readers will find extensive information on what to see and do in each country or state – but filled with humor."
Throughout a career spanning five decades, Loupassakis gathered insights into some of the world's most famous travel destinations, including Spain, Greece, Egypt, Australia and New Zealand, Alaska, Israel, South America, South Africa and many more.
"I've travelled to 65 countries on six continents, and 46 states," said Loupassakis. "I want to share my knowledge with people and inspire them to see things that an average traveler never will."
"Go Dat Way and Go Dere: Around the World in Fifty Years"
By Gary Loupassakis
ISBN: ISBN 9781665562324; ISBN 9781665562331; ISBN 9781665562560
Available at AuthorHouse, Amazon and Barnes & Noble
About the author
Gary Loupassakis grew up in a small town in central New Jersey and holds a Bachelor of Arts in history
from Kean University. A travel agent since 1967, he has extensively traveled the world for the past 50
years. "Go Dat Way and Go Dere: Around the World in Fifty Years" is his first book. For more information, please visit godatwayandgodere.com.
###