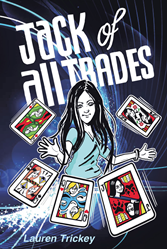 SYDNEY (PRWEB) February 10, 2020
Debut author Lauren Trickey has released "Jack of All Trades," the first installment in her new YA fantasy series that travels between the mortal world and a magic-filled alternate reality. The book introduces readers to Aelana, Jade, Ash, Skyler and Phoenix, five seemingly normal teenage girls whose lives are shaken up when they discover this mysterious parallel universe and their own unique roles within it.
After each of the girls face an unusual near-death experience, they awake in a shared hospital room with a mysterious woman named Shadow. She informs them that they are all royalty of different magical races, and therefore kingdoms, in an alternate universe called Lindreas. In order to claim their respective thrones, the girls must become proficient in their magic and complete a mission to recover stolen artifacts that have been hidden by a treacherous witch.
As the young protagonists begin their training, they must also continue to navigate the tricky world of high school and the struggles that come with it. Having begun writing the book at the age of 13, Trickey expertly illuminates the pressure, stress and desire to fit in that all teenagers experience and, through her characters, emphasizes the importance of embracing one's own magic.
"Self-discovery is an ongoing process," said Trickey. "I want teenagers who are struggling with understanding and accepting themselves to understand how important it is to allow yourself patience and time to grow and to focus on what makes you happy rather than gaining acceptance from others."
A thrilling YA fantasy novel that follows a group of teenage girls as they unearth hidden truths about themselves, "Jack of All Trades" inspires readers to discover their own powers within.
"Jack of All Trades"
By Lauren Trickey
ISBN: 9781504319287 (softcover); 9781504319294 (electronic)
Available from Amazon, Barnes & Noble and Balboa Press
About the author
Lauren Trickey is an author living in Sydney, Australia. She was inspired to write her first novel, "Jack of all Trades," at the age of 13 and published it at age 20. When she is not writing, she loves to dance and listen to music.
###
Review Copies & Interview Requests:
LAVIDGE – Phoenix
Leslie Standridge
480-998-2600 x 586
lstandridge(at)lavidge(dot)com