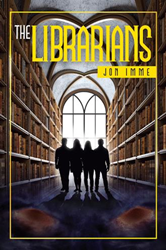 SANTA CLARITA, Calif. (PRWEB) November 09, 2021
A battle between good and evil ensue as four young librarians face giants, demons and magicians to protect an all-powerful book in Jon Imme's "The Librarians" (published by LifeRich Publishing).
This religious fiction follows four young people from different generations who are chosen to be librarians for a book that can change the world. Guided by the book, each of the librarians go on their own journey to spread its seven pillars of knowledge. Readers follow them as they fight against giants, magicians, spirits of darkness and their own inner doubts and fears to fulfill the task given to them by the Creator.
"The Librarians" is unique in a sense that it puts Biblical stories in contemporary settings and combines supernatural enemies with ordinary heroes. With it, the author hopes to create a sense of adventure for Christians — especially the youth — as they walk the journey God has prepared for them. He hopes to show them that the Christian journey is exciting, fun and filled with surprises, and that they must rely on a power greater than themselves to do great things.
"The Librarians" officially launched on Oct. 10, 2021, and may be purchased directly through https://www.liferichpublishing.com/en/bookstore/bookdetails/827670-the-librarians.
"The Librarians"
By Jon Imme
Hardcover | 6 x 9in | 240 pages | ISBN 9781489737762
Softcover | 6 x 9in | 240 pages | ISBN 9781489737755
E-Book | 240 pages | ISBN 9781489738042
Available at Amazon and Barnes & Noble
About the Author
Jon Imme is a pastor at a multicultural, urban church in Los Angeles for 44 years. He was also a teacher at Los Angeles High School for two years. He is a producer of faith-based documentaries as well as a regular blog writer. "The Librarians" is the first book of the trilogy, "Rivers, Canyons, and Drones."
LifeRich Publishing, the strategic publishing partnership of Reader's Digest and Author Solutions, LLC, was created to provide all writers a platform for sharing their stories, recipes, advice and more. LifeRich authors will benefit from a wealth of editorial design, marketing and education resources, specially created by Reader's Digest editors for the enrichment of these LifeSmart individuals. Books can be published in print, ebook or audio formats, with additional distribution to up to 25 million Reader's Digest customers through its online properties. For more information or to publish a book, please visit liferichpublishing.com or call 844-686-9607.