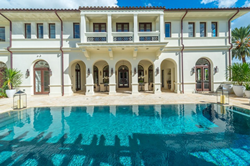 Where Real Estate Is Never Boring!
POMPANO BEACH, Fla. (PRWEB) December 31, 2020
"December's Top 10 Celebrity Real Estate News"
"Marc Anthony Selling Gigantic Florida Mansion"
Marc Anthony is asking $27 million for his 21,000-square-foot mansion in Coral Gables, Florida. Quite large even for a celebrity home, Marc bought the unfinished waterfront home near Miami in 2018 for $19 million and then spent several million to finish the home. The mansion is located near other celebrities including Pharrell Williams and Jennifer Lopez's fiancee, Alex Rodriguez.
"Ivanka & Jared Buy $30 Million Lot On Exclusive Florida Island"
Amid much speculation where Ivanka Trump and Jared Kushner will end up after President Trump leaves office, the couple recently purchased a $30 million lot on South Florida's uber-exclusive Indian Creek. One of the most secure locations in the U.S. with a number of top CEOs as home owners and with its own 13-member police force, the island is often referred to as "Billionaire's Bunker." Ivanka and Jared bought the lot from singer Julio Iglesias.
"Historic Barron Hilton Mansion"
The longtime L.A. home of Barron Hilton is for sale at $75 million. Barron, who died in 2019, was the son of Hilton Hotels-founder Conrad Hilton and grandfather of Paris Hilton. The 15,000-square foot home in the exclusive Holmby Hills neighborhood was designed in 1936 by legendary-Black-architect Paul R. Williams for CBS CEO Jay Paley.
"Jimmy Buffet Sells Palm Beach Home"
Jimmy Buffet has a thing for beach-area homes including Sag Harbor, New York, the Caribbean's St. Barth and several beach homes in Palm Beach, Florida. He just sold his island-style Palm Beach home for $6.9 million.
"Kim Cattrall's Home in the Hamptons"
The East Hampton home that Kim Cattrall bought for $450,000 in 1998, the first year of Sex and the City, is for sale at $2.9 million - recently reduced from $3.25 million. The listing includes the 1,232-square-foot main home and a 336-square-foot-separate studio.
"Almost Neighbors: Sylvester Stallone & Donald Trump"
Sylvester Stallone just paid $35.4 million for a Palm Beach mansion that is located on the northern edge of Palm Beach, about seven miles from Donald Trump's Mar-a-Lago. With over 13,200 square feet and seven bedrooms, Sylvester's home is on the water with a dock and sandy beach.
"Another One For Oprah"
Oprah Winfrey owns several homes including her recent purchase of actor-friend Jeff Bridges' ranch in Santa Barbara. The 3,517-square-foot, two-bedroom, three-bath Spanish Revival-style home was originally built in 1919 on four acres of gardens. The home still has its original windows, doors, hardwood floors and five fireplaces. Oprah paid $6.85 million for the home.
"Priscilla Presley Gets $13 Million"
After their divorce in 1973, Elvis Presley stayed in their Beverly Hills family home while Priscilla Presley bought a home near him in Holmby Hills. She lived in the home for over 45 years and recently put it on the market at $14.5 million. It just sold for $13 million.
"Shaun White Sells Malibu Beach Home"
Three-time-Olympic-gold-medalist Shaun White has sold his Malibu beach home for $8 million. Located behind private gates, the snowboarder's modern home features an open-concept floor plan with large living and dining rooms, hardwood floors, fireplace, walls of windows and an outdoor terrace with views of the Pacific.
"Dennis Sells To Ellen"
Ellen DeGeneres is the new owner of comedian Dennis Miller's Montecito, California home for $49 million. Ellen is a longtime buyer and seller of celebrity-connected homes most recently selling another Montecito-area home for $33.3 million.
For more celebrity home news and celebrity home video tours, visit TopTenRealEstateDeals.com.