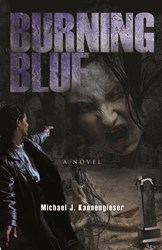 In this dark, paranormal horror story, Jack must fight to save his life, redeem his soul, and reunite with the love of his life.
New York, NY (PRWEB) December 09, 2013
Michael J. Kannengieser, retired NYPD police officer, New York native and author of the critically acclaimed police thriller The Daddy Rock and of the new paranormal police horror story Burning Blue ($19.95 Paperback 978-1-936085-72-9; $21.95 Hardcover 978-1-936085-74-3; $9.95 eBook 978-1-936085-73-6) is scheduled to hold a book signing event at The Book Revue in Huntington, NY at 7 pm ET this Thursday, Dec. 12, 2013. The Book Revue is a well-respected, independent NY-area bookstore notable for holding events for famous authors, including past US Presidents and numerous celebrities and sports personalities. It is located at 313 New York Avenue, Huntington NY 11743.
Burning Blue is police horror story filled with adventure, suspense, and redemption. It delivers a wild, unpredictable, and scary ride that promises to keep the reader turning the pages well into the night. In this dark, paranormal horror story, Jack must fight to save his life, redeem his soul, and reunite with the love of his life.
"What stands out for me in Burning Blue is the theme of redemption," says author Kannengieser in a pre-release interview with Decent Hill. "I always try to have an overriding theme in my books. In The Daddy Rock, the overall theme is forgiveness. In Burning Blue, Jack Chase has done something wrong, and he seeks forgiveness for his sin, his legal troubles, and also redemption for his very soul."
Author Kannengieser will be holding several promotional events for Burning Blue over the next several months, starting with this book signing event at Book Revue in Huntington, NY. He will hold media interviews, library visits, and other author appearances as part of his national book tour.
Decent Hill is a leading publisher of critically acclaimed fiction and non-fiction titles. Retailers can order copies of Burning Blue through Ingram and other book distributors or directly from the publishers. This title is also available on reputable retailer websites like Amazon, Barnes and Noble, iBooks, and at the publisher's website: DecentHill.com.
Please send notices of posted reviews or interview requests to info(at)decenthill(dot)com or by calling (866) 688-5325.
###
TIP SHEET
Burning Blue is an interesting horror-mystery. The horror element is very real, too. There is a sense of police procedural to it. I like the way author Michael Kannengieser combines the two genres. The taste we get—and the descriptions are pretty good, if brief—keeps Burning Blue safe for non-horror mystery fans to enjoy the ride. Burning Blue is a damned good ride (pun intended). – Tom Sanchez, GoodReads.
A gritty crime morality play. – Krazykiwi @ Kiwitopia