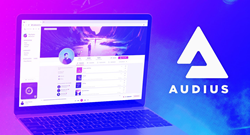 We are passionate about using technology to unleash creativity and disrupt the status quo. Judging by the thousands of people ready to join our platform today, the time to do so is now.
SAN FRANCISCO (PRWEB) September 24, 2019
Audius, a decentralized audio streaming platform that directly connects artists and fans to share and discover content, launched its public beta today. This censorship-resistant, community-controlled platform gives artists the power to share their music and grow their fan base in an industry stifled by corporate influence.
Some of the biggest names in electronic music, including deadmau5, Zeds Dead, Graves, Stafford Brothers, Mr Carmack, Rezz, 3LAU, and Brownies & Lemonade, have already signed on as advisory board members and early adopters. These artist-advisors, along with hundreds of carefully selected artists, have participated in the private beta and helped to insure the platform is adequately addressing their most pressing needs.
"I pride myself on being an early-adopter and innovator. As an artist, I spend much of my time seeing around the corner to the future of the industry and Audius is clearly the way forward," said Joel Zimmerman, known professionally as deadmau5. "I'm thrilled to join this team. Audius' dedication to empowering artists through supporting direct relationships with fans, censorship resistance, and fair pay is so important in a time when artists are being mistreated regularly."
As of today, the combined monthly listenership of artists on Audius is 10 million. They are attracted by the infinite potential of Audius, an open source project, to pioneer new ways for them to connect directly with fans. After months of private beta and thousands of artists on the waiting list ranging from up-and-comers to prominent musicians in electronic and hip-hop, Audius is making the beta service publicly available today.
"We built Audius to put artists in control of their content, listener data and relationships with fans," said Roneil Rumburg, CEO of Audius. "We are passionate about using technology to unleash creativity and disrupt the status quo. Judging by the thousands of people ready to join our platform today, the time to do so is now."
The service is not just for artists, but for those looking to find, listen to, and share new music as well. Anyone who joins Audius can effectively become an artist, just by uploading tracks. The platform is designed to break down barriers, and make sharing and interacting with music seamless between all community members.
"Audius is exactly what I've been waiting for," said Choice, a Los Angeles-based hip-hop artist. "I watch the artists I've looked up to sacrifice their power for success. Is it too much to want both? No. That's what Audius is doing. I want my data back. I want to be fairly compensated for my art. Mark my words: Audius is a game-changer for artists and listeners alike. This will revolutionize the industry forever."
Audius transforms listening into a social music experience that allows artists, fans, and developers to freely express themselves. Unlike streaming services owned by centralized companies, the Audius community interacts directly to create, curate, and consume content with no risk of censorship or deplatforming. The result is a permanent home for unparalleled relationships and diversity of content.
The beta runs atop the Audius testnet, which launched in August and includes over a dozen decentralized storage and indexing nodes distributed around the world.
Access images and video assets in the press kit here.
ABOUT AUDIUS
Audius is a music streaming service controlled by a decentralized community of independent artists, fans, and developers with a common cause: to free the world's music. With Audius, artists can directly distribute and monetize their work, and fans can discover and share new music on the blockchain. The company is venture-backed by General Catalyst, KPCB, Lightspeed, and Pantera. CEO Roneil Rumburg and CPO Forrest Browning, both life-long music fans, successful tech entrepreneurs, and crypto enthusiasts, co-founded Audius in February 2018. Learn more at https://audius.co or follow @AudiusProject.