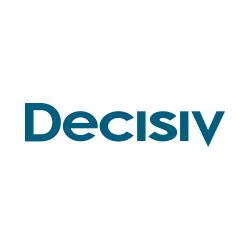 "AWS modernizes our platform infrastructure and enables scalability so we can quickly add partners and stay competitive."
GLEN ALLEN, Va. (PRWEB) October 23, 2019
Decisiv, Inc., the industry leader in Service Relationship Management (SRM) solutions, announced today that ongoing adoption of cloud solutions from Amazon Web Services (AWS) is reducing development time and enhancing availability, scalability and security of its SRM platform.
"With cloud solutions from Amazon Web Services we can focus on ecosystem development, ensure greater than 99% availability for SRM platform users, and enhance security and compliance that is increasingly required by IT departments," said Satish Joshi, Chief Technology Officer at Decisiv. "AWS modernizes our platform infrastructure and enables scalability so we can quickly add partners and stay competitive."
Decisiv initially migrated its SQL Server–based SRM platform to Amazon Web Services, taking advantage of the Amazon Relational Database Service (RDS) and then moved to Amazon Aurora for better performance and scalability.
Using AWS, Decisiv built a cloud-based platform-as-a-service (PaaS) version of the SRM solution and then introduced Insite 2.0, a visualization platform based on Amazon Redshift that uses business intelligence technologies to enable better visualization and reporting. The company has also shortened its development time with Amazon Aurora PostgreSQL.
For more information, read Decisiv Delivers Continuous Availability, Doubles Productivity by Moving to AWS.
About Decisiv, Inc.
Decisiv provides a cloud-based Service Relationship Management (SRM) platform that revolutionizes how the service supply chain for commercial assets communicates and collaborates. As the industry leader in SRM technology, Decisiv is driving unrivaled improvement in asset performance and utilization for manufacturers, service providers and asset owners in the commercial vehicle, heavy equipment, and industrial markets. The SRM platform's ability to harness, share and analyze connected asset data, and to intelligently enable service management, is the key to driving asset uptime and availability. Decisiv is the partner of choice for major commercial vehicle manufacturers, including Volvo, Mack, Hino, Isuzu, Peterbilt and Kenworth, as well as their dealers and call centers, service networks and asset owners. For more information, visit http://www.decisiv.com.