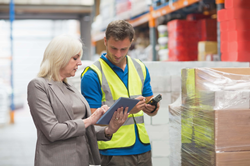 By the end of 2019, Deck Commerce will offer nearly 40 pre-built integrations for customers using their distributed order management solution. This means quicker implementations and more options for their users when it comes to payment, logistics, and other omnichannel retail services.
ST. LOUIS (PRWEB) May 06, 2019
Deck Commerce, a leading Order Management Solution (OMS) for omni-channel commerce, today announced the launch of four pre-built integrations including two single sign-on (SSO) identity providers.
Ping Identity and Okta are the first identity integrations to go live on Deck Commerce, which gives OMS customers more options when it comes to user authentication. SSO functions make it easier for brands to manage permissions for their employees, especially those accessing multiple cloud and on-prem apps and services for their day-to-day tasks.
Although only two SSO integrations were launched initially, the Deck Commerce plugin framework allows them to easily integrate with any other SSO identity providers using SAML 2.0, says Director of Engineering, Daniel Ferguson. "All of our integrations are built using a framework that makes it easy for our customers to swap one vendor for another. For example, if a customer wanted to switch from using Ping Identity to Okta or another vendor altogether, the risk and complexity of the change would be very small."
Additional integrations that Deck Commerce launched recently outside of SSO include payment and logistics integrations, Braintree and Shipwire, respectively.
Kris Ninnis, Director of Global Services, says by the end of 2019, Deck Commerce will offer around 40 pre-built integrations. "This means more efficient implementations and more options for customers overall. Adding new integrations to our product is extremely important, especially when it comes to technology like authentication, payment, and logistics. The brands using our software every day are focused on their customers, so we need to make sure we can implement whatever technology needed to give their customers a great experience."
About Deck Commerce
Deck Commerce best-in-class Order Management Software powers omni-channel commerce for leading brands like New Balance, Build-A-Bear, Rawlings and others. The highly flexible, cloud-based solution features support for inventory management, order orchestration, and transaction processing. The platform enables businesses to scale and increase revenue by optimizing distribution networks and leveraging existing back-end business systems, all while providing consumers a seamless omni-channel experience. To learn more, visit http://www.deckcommerce.com.