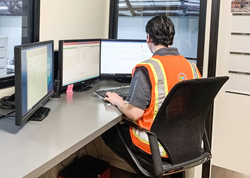 Ruben Cortez, Sr. Purchasing Agent for Decker Electric says "PCS is very structured and easy to use, allows us to compare pricing, offers many helpful reports such as the material cost report that helps us close out a job effectively, and the PeerAssist team is their best quality".
COLUMBUS, Ohio (PRWEB) September 25, 2020
In construction, especially during these challenging times, contractors can't afford bottlenecks within any workflow that prevents efficiency or hinders the ability to control costs and impact the bottom line. Successful contractors understand that the material purchasing process is critical and can help contractors to stay within budget and maintain/improve profitability on construction projects. Whether the construction project is large or small, construction material purchasing must be timely, accurate, ensure the best pricing, and executed with precision. Without a system in place, contractors risk huge profits being missed and can encounter costly impact during the material ordering process. The material purchasing process often lacks controls for this highly tedious process.
View a Tour of PCS by PeerAssist.
Theresa Jutagir, Chief Product Officer for PeerAssist says "We love helping contractors to solve problems – it's in our DNA. We work alongside our construction customers to understand their needs at a much deeper level and optimize the process wherever possible. PCS is battle-tested and has been shaped by many elite contractors in the industry who had experienced the same problem. We strive to not only help, but to leave a lasting positive impact on our peers by maximizing their software investments. PCS is no different and is tailored to our customer's construction workflow requirements".
About PeerAssist
PeerAssist is a leading provider of construction productivity software solutions. Our platforms drive operational efficiency specifically designed for the construction industry – for general contractors and subcontractors. Headquartered in Columbus, Ohio, PeerAssist has offices throughout the US and Bulgaria. Learn more at http://www.peerassist.com or call (888) 910-0659 to speak with one of our product experts.