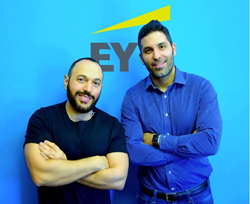 Los Angeles, CA (PRWEB) April 27, 2017
EY today announced that Sam Sinai, CEO, and Ben Pouladian, President, of Deco Lighting are semifinalists for the EY Entrepreneur Of The Year® 2017 Greater Los Angeles Region Award. Now celebrating its 31st year, the awards program recognizes entrepreneurs in over 145 cities and 60 countries who demonstrate excellence and extraordinary success in such areas as innovation, financial performance and personal commitment to their businesses and communities. Sam and Ben were selected as semifinalists by a panel of independent judges. Finalists will be announced Monday, May 8, and winners will be announced at a black-tie Awards Gala on Thursday, June 15, with more than 700 Founders, CEOs and other business leaders in attendance, at the Beverly Hilton hotel in Beverly Hills, California.
Before the age of thirty-five the founders of Deco Lighting, Ben Pouladian and Sam Sinai, began pushing the boundaries of the lighting industry. They became a force to be reckoned with as they brought innovative thinking and a commitment to excellence in the cultivation of their products. A hallmark of their leadership style is their refusal to accept mediocrity and their willingness to risk it all for the ideas they believe in. This ability to break the mold was present when the two cousins chose to grow a family-owned manufacturing business in the heart of Los Angeles. Rather than outsourcing production, the partners saw the benefits of keeping production in the US. Being able to promote their US-made LED product has given Deco the ability to rise not only as a pioneer in manufacturing, but also a leading U.S. employer. With a company culture that rivals that of Silicon Valley's tech firms, Deco prides itself as being an incubator for innovative thinking and cutting-edge technology.
Inspired by companies like Zappos and Facebook, Ben and Sam decided to create a fun and respectful corporate culture that defines the very spirit of their company. Deco Lighting's unique culture has become one if its top recruiting tools for top talent in the industry.
Ben and Sam have come a long way from the small warehouse in Gardena, California -- where they started with a $200,000 investment, and only 5 employees -- to being an industry leader that employs close to two hundred individuals and conducts business globally.
Regional award winners are eligible for consideration for the EY Entrepreneur Of the Year National Awards. Award winners in several national categories, as well as the overall national award winner, will be announced at the EY Entrepreneur Of The Year National Awards gala in Palm Springs, California, on November 18, 2017. The awards gala is the culminating event of the EY Strategic Growth Forum®, the nation's most prestigious gathering of high-growth, market-leading companies.
Learn more about Ben and Sam's journey as EY Entrepreneur Of The Year semifinalists by following @getdeco on Twitter
Follow all the latest program developments @EY_EOYUS using #EOYGLA and visit the Greater Los Angeles regional website for more information: http://www.ey.com/us/eoy/greaterla.
About Deco Lighting®
Deco Lighting is a leading manufacturer of innovative LED lighting fixtures and systems for the commercial, municipal, and utility markets. Based in Commerce, California, Deco Lighting aims to Digitize Your Light™ by offering the latest in energy-saving lighting products and integrated smart control systems prepared to connect to the Internet of Things (IoT). DECO is set to debut into the high-end architectural space and roll out fresh, design-driven luminaires to meet the demand for quality, high performance products to satisfy the most discriminating architects and lighting designers. Continually winning industry awards and patents for their unique US-made products and designs, Deco Lighting utilizes the latest and most advanced lighting technologies to improve lighting quality, increase efficiency, and sustain the environment. Partnered with leading LED manufacturer Nichia, Deco Lighting offers the only ten-year warranty with labor in the lighting industry.
About EY Entrepreneur Of The Year®
EY Entrepreneur Of The Year is the world's most prestigious business award for entrepreneurs. The unique award makes a difference through the way it encourages entrepreneurial activity among those with potential and recognizes the contribution of people who inspire others with their vision, leadership and achievement. As the first and only truly global award of its kind, Entrepreneur Of The Year celebrates those who are building and leading successful, growing and dynamic businesses, recognizing them through regional, national and global awards programs in more than 145 cities in more than 60 countries.
About EY
EY is a global leader in assurance, tax, transaction and advisory services. The insights and quality services they deliver help build trust and confidence in the capital markets and in economies the world over. EY develops outstanding leaders who team to deliver on their promises to all their stakeholders. In so doing, EY plays a critical role in building a better working world for their people, their clients and their communities.
EY refers to the global organization, and may refer to one or more, of the member firms of Ernst & Young Global Limited, each of which is a separate legal entity. Ernst & Young Global Limited, a UK company limited by guarantee, does not provide services to clients. For more information about our organization, please visit ey.com.