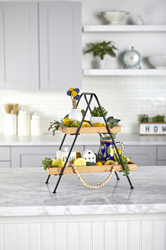 "We started our "Coffee Time" chats as a way to take a break and talk decor. We love connecting with everyone and are looking forward to sharing all the summer box offers through these chats and all of our social channels." – Anais Cowley, Director of Social Media
SUNRISE, Fla. (PRWEB) May 20, 2020
Decocrated (pronounced DECO-CRATED) wants to brighten things up this season with its new SUMMER subscription box curated with the best of home decor delivered right to subscribers' doors. The summer box will bring sunshine and outdoor vibes into homes with pops of bright yellow, cheerful blues, gold accents, lush summer patterns and light natural woods and textures. The SUMMER box contains seven (7) items including two (2) interchangeable and seasonal décor items, four (4) everyday home accents and one (1) hosting accessory (social distancing, of course!). All of the pieces are neutral, stylish and will perfectly complement any existing home décor style. Plus, Decocrated offers downloadable content, how-to's, DIY's, trend highlights and pro-decorating tips via its newsletter and blog.
Decocrated prides themselves on working hard all year-round to create a beautiful story for their subscribers each season and collaborating with talented artists. For the SUMMER box, they collaborated with artists Katie Aurelia and Kasey Free, a multi-disciplinary design duo whose work is inspired by their world travels and natural environment, using a variety of techniques including traditional painting, collage and digital.
Decocrated has also made it a priority to stay connected with its subscribers during recent stay-at-home initiatives. Catch the Decocrated Team LIVE on FB every Wednesday afternoon (1:30pm - 2:00pm EST) for "Coffee Time with Decocrated." They feature spoilers, guest interviews, a peek into the Decocrated team's homes and the chance to ask questions about all things Decocrated! Plus, join one of the popular Decocrated FB communities, "The Decocrators" (like-minded home décor lovers), #DecoHacks (creative types who hack decor) and The Decocrated Marketplace (a place to buy/sell/trade items).
The SUMMER box goes on sale May 20th, and starts shipping in early June. Individual Decocrated boxes are $79.99 (valued up to $200), a 10% discount is offered with an annual subscription. Check out the "Gift A Box" Feature and send some happiness to a friend.
"We started our "Coffee Time" chats as a way to take a break, talk decor and make sure that we're maintaining our sanity during these unusual times. We love connecting with everyone and are looking forward to sharing all the summer box offers through these chats and all of our social channels." – Anais Cowley, Director of Social Media
###
About Decocrated – Not all home décor subscription boxes are created equal. Decocrated is for those who love styling their home and want a little inspiration. Quarterly subscription boxes are hand-picked with a selection of home décor that evokes the season, keeping your space feeling fresh and on trend.
Decocrated Electronic Press Kit- photos, video and more!