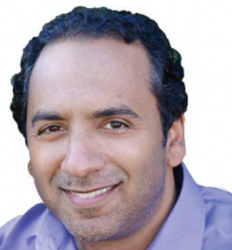 During my decades of research, I was astonished to learn that service to others had a profound impact in many areas of life I did not expect – it has a substantial impact on fighting diseases
CHERRY HILL, N.J. (PRWEB) December 11, 2020
As the spread of the coronavirus accelerates, it continues to devastate people physically, emotionally, and financially, leaving many feeling helpless. But could service to others be a remedy to the challenges we face? It took Fortune 1000 executive consultant, Kris Chettayar, two master's degrees, fifteen years of professional experience, and millions of dollars in market research to figure it out.
In his timely new book, A Way Out: The Hidden Fortune of Service, Chettayar reveals data that can be defined as the "service paradox," details the mindset and practices of the richest individuals, businesses, and nations in the world, and demonstrates how a focus on service will help us thrive in face of the immediate ills we face. It also provides readers actionable steps and techniques, backed by science and decades of research, to help make improvements in their ability to serve and benefit from it in three key areas of our lives – financial, emotional, and health.
"I wrote A Way Out: The Hidden Fortune of Service with the express purpose of sharing the data I discovered to help people and businesses struggling with the economic and emotional impact of a global pandemic and an economy teetering on the brink of collapse," said Chettayar. "During my decades of research, I was astonished to learn that service to others had a profound impact in many areas of life I did not expect – it has a substantial impact on fighting diseases, and that even witnessing an act of service would raise the level of immunoglobulin A in your blood, which fights bacteria and viruses such as the COVID-19. I also uncovered additional research that showed service was a natural remedy to combat depression and anger because it increases levels of natural opiates."
A Way Out also takes the reader on a journey into the central driver of wealth and provides the science and techniques to harness it for personal and professional success in any circumstance. The book gives an inside view of ordinary people who have lifted themselves out of challenging circumstances to achieve extraordinary things. This is a must-read for people who are looking to find a way to survive and thrive in any economic situation because it isn't over until it's over.
"If you're not sure if your business will survive, feel lost right now, or just want to get more out of the life you're living – this book is for you," writes Jennifer Jolly, Nationally Syndicated Tech-Life Columnist. "During this otherwise perfect storm of stress, panic, and fear, A Way Out guides you down a new path to true success, peace, and prosperity through simple actionable steps backed by years of science and research."
In A Way Out: The Hidden Fortune of Service, Chettayar also reveals:

Insight into the mindset and practices of some of the richest individuals, businesses, and nations
Presents the billionaire mindset that led to an empire built from trash, and ways to leverage it
Skills for engaging and serving people that will help you succeed in any profession
How serving others raises the level of immunoglobulin A that fights bacteria and viruses
Why we need to re-tool our skills to adapt to the post-pandemic economy
One cure for a weak immune system from isolation of social lockdown
Ways to increase levels of natural opiates: serve others, fight depression
Kris Chettayar has worked as an executive and consultant for companies including General Electric, Dun & Bradstreet, Information Resources, Acxiom, TransUnion, and Experian. His work has helped companies generate billions of dollars in revenue, annually. He's considered an expert in the domain of identity, data, marketing, risk, and analytical services, serving industry verticals such as CPG, financial services, information services, media, restaurant, retail, software, telecom, travel, and many others. His work has also been used by United States intelligence agencies to identify threats to the country. Chettayar's executive-functional experience includes strategy, innovation, marketing, and sales and service.
Chettayar earned a Master's degree in Management and Engineering and a Master's degree in Marketing and Data Science from Northwestern University. He completed his undergraduate work in marketing at California State University, Fullerton, and completed executive education in general management and technology at Massachusetts Institute of Technology (MIT). You can connect with Chettayar on Facebook, LinkedIn, Twitter and at Chettayar.com.
His new book, A Way Out: The Hidden Fortune of Service, is available on Amazon, and on Chettayar.com.
REVIEW COPIES AVAILABLE UPON REQUEST