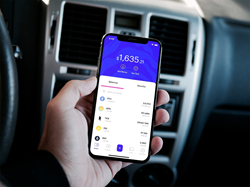 LONDON (PRWEB) September 15, 2020
London-based Monolith, a decentralised finance company which allows users to spend their Ethereum-based tokens for everyday purchases has announced customers can now buy crypto directly on their platform.
Closing the loop on DeFi
In 2018, Monolith broke new ground for the Defi economy by offering customers the ability to hold crypto but spend £'s or €'s in the real economy through its debit card offering. Currently thousands of users in the UK and EEA use Monolith for everyday transactions such as paying bills, purchasing goods, and taking out cash all while maintaining full custody of their crypto assets through its decentralized wallet.
Monolith's ability to spend via its Debit Card has long been heralded as the backbone of an experience that transcends the current financial paradigm. With Monolith now offering the ability to buy crypto, it makes the Monolith Defi finance experience even smoother and seamless.
"We are quite simply the best way to get into and out of DeFi" Monolith CEO Mel Gelderman said. "But the next frontier will be embracing everything in between in order to create a more approachable experience to those just entering the space."
Monolith has seen a rapid expansion in the services they provide and in the customers joining their platform, namely because of:
The growth of Monolith's TKN token,
No fees for in-app swaps,
Tripling the number of topuppable tokens in app, including interest bearing aDai
And now offering money-in
All of which puts Monolith at the true center of the 'DeFi' movement appealing both to those who are well versed as well as those new to the space.
And customers agree with monthly customer growth up 400% in just 4 months!
Success through Regulation
Regarded as one of the preeminent projects in the Decentralised Finance space, Monolith's focus has always been to ensure it is a credible firm to customers and the regulator alike. To build that trust, Monolith took part in the FCA's sandbox while it was still in its infancy to drive a regulatory safe approach to growth in this novel sector. Recently, Monolith has strengthened its compliance team and has applied for FCA registration under the Money Laundering Regulations to try to be one of the first crypto to fiat debit cards to receive approval. They await the FCA's feedback.
"By creating an easy to use solution that couples a native self-custodial wallet with the easiest way to get into and out of DeFi, we are bringing the power of a new financial paradigm to the masses. In a world that looks for new and innovative ways to unbank, we're glad to be the preferred vehicle to deliver this experience" Mel Gelderman CEO of Monolith said.
About Monolith
Monolith is a London-based banking alternative powered by Ethereum. Established in 2016, Monolith aims to bring the Ethereum economy to the real world.
Available on iOS and Android, Monolith allows you to securely store ETH and ERC-20 tokens in your own decentralised Contract Wallet. You can then exchange them to fiat and preload them to your Monolith Debit Card.
The Monolith token, TKN, gives community members a chance to share in the success of the Monolith card and is backed by a basket of Ethereum tokens that people use to pay for everyday purchases.
Find out more at https://monolith.xyz.