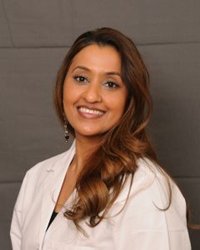 Skin tags are almost always harmless, and do not require treatment. Removal is generally for cosmetic reasons or if they become irritated.
WEST ISLIP, N.Y. (PRWEB) November 29, 2021
Skin tags are very common. Researchers estimate that about half of all adults will have at least one in their lifetime, with their incidence increasing after age 50. "Skin tags are almost always harmless," says Angie Seelal of Advanced Dermatology, P.C. "and do not require treatment. Removal is generally for cosmetic reasons or if they become irritated. Your doctor has several options for removing them but removal at home risks bleeding or infection and is not recommended."
What is a skin tag?
A skin tag, also known as an Acrochordon, is a small benign growth usually attached to the skin by a tiny stalk. It is composed of blood vessels and collagen and enclosed by an outer layer of skin. A skin tag hangs off the skin by its stalk unlike moles and some other skin growths that lie flat against the skin. Most skin tags measure just a couple of millimeters but some may grow as large as 2 centimeters. Skin tags may appear anywhere on the body but are most common where the skin rubs against itself, such as in armpits, groin, neck, eyelids, and under the breasts.
What causes skin tags?
A definitive cause of skin tags isn't known but because they show up in where the skin folds or wrinkles, it is thought that friction may play a role. Various studies have shown an association between skin tags and the human papillomavirus (HPV) and also a possible link to insulin resistance and high body mass index. Skin tags occur commonly in pregnancy, possibly due to hormonal changes and weight gain. There may be a genetic tendency to develop skin tags.
Who is at risk for skin tags?
Skin tags affect men and women equally. Based on the incidence of their occurrence and research studies, you may be more likely to develop skin tags if you are overweight or obese, have diabetes, are pregnant, or have close family members who have skin tags. "There is no sure-fire way to prevent skin tags," says Ms. Seelal, "but you might be able to minimize their occurrence by maintaining a healthy weight, getting plenty of exercise, and avoiding clothing or jewelry that repeatedly rub the same area."
How are skin tags removed?
Dermatologists are the best qualified medical professionals to remove skin tags. They have the training and skills to treat delicate areas, like the eyelid, to minimize scarring, and to diagnose growths that aren't skin tags. Removal methods include:

Heat (cauterization) – burning it off
Freezing (cryosurgery) – using a probe containing liquid nitrogen
Ligation – cutting off the blood supply to the tag
Excision – cutting the tag out with a scalpel
Your doctor will determine the best method based on the size and location of the tag and other factors in your medical profile. Treatment is typically done in the doctor's office and involves only mild, easily managed discomfort. There is seldom any permanent scarring. Skin tags do not grow back once removed.
"Skin tags shouldn't be a cause for concern," says Ms. Seelal. "They pose no threat to your health. You may never notice them and tiny ones might fall off on their own. If they are bothersome, either cosmetically, because they interfere with grooming activities like shaving, or because they are in a location that is prone to irritation, skip the do-it-yourself techniques and talk to a dermatological professional about the best way to remove them."
Bio: Angie Seelal, PA-C, is a Certified Physician Assistant through the National Commission of Certification of Physician Assistants.
Advanced Dermatology P.C. and the Center for Laser and Cosmetic Surgery (New York & New Jersey) is one of the leading dermatology centers in the nation, offering highly experienced physicians in the fields of cosmetic and laser dermatology as well as plastic surgery and state-of-the-art medical technologies. http://www.advanceddermatologypc.com.