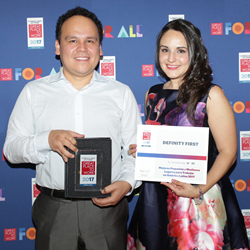 "Definity First is investing in employees and creating a sense of family at work."
Chicago, IL (PRWEB) May 25, 2017
During the Great Place to Work® International Conference held in Chicago from May 23rd to 26th, Definity First was named #45 in the ranking for the Latin American region in the category of Small & Medium Workplaces, between 50 and 500 employees in 2016. This was such great news for Definity First because the software firm is not only facing companies from Mexico, but from a whole region.
Chicago had Amazing Surprises for Definity First!
This event was also an opportunity to meet Great Place to Work's Global CEO Michael Bush, the General Directors from all GPTW's offices, and top executives from all the companies listed in the global rankings.
This important award solidifies just how amazing Definity First's values and organizational culture are. The company recognizes the power of people, always giving them the tools they need for personal and professional growth. Last year Definity First started its Mentoring Program, a special plan to foster all team members' talents and capabilities. The objective was that every associate receive counseling and guidance to fulfill their own personal and individual goals. This software firm is investing in employees, creating a sense of family at work, and earning business benefits because of a high-trust environment.
In addition to being recognized last year with 7 GPTW® awards at the national level, this milestone keeps placing Mexico as a great country to work within the Latin American region. Definity First proves again just how a splendid work environment it has, and what an awesome team they are. This Company will keep up the good work and keep collecting milestones as a solid team.
Want to join our team, check our open positions here