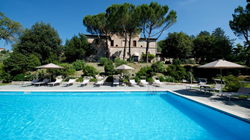 "I am thrilled to be able to offer this unique property to my clients," said Fanelli Moraccini. "La Rocca is the perfect retreat for those looking to escape the hustle and bustle of city life and experience the beauty of the Italian countryside in a truly authentic way." -Tina Fanelli Moraccini
BEVERLY HILLS, Calif. (PRWEB) January 13, 2023
The "La Rocca" fortress boasts 5.7 acres of private land with a landscaped park, mature trees, a glimmering swimming pool, a tennis court, a lush olive grove with 120 trees, a small vineyard, and fertile land. All together there are 20 rooms and 16 bathrooms in over 12,000 square feet. The facility also features a restaurant with farm-to-table experiences that bring the freshness of the fields, orchards, and local artisanal food and wine to the table.
"I am thrilled to be able to offer this unique property to my clients," said Fanelli Moraccini. "La Rocca is the perfect retreat for those looking to escape the hustle and bustle of city life and experience the beauty of the Italian countryside in a truly authentic way. The Villa can be a primary residence, an income property, or – ideally – both." -Tina Fanelli Moraccini
La Rocca is immersed in Umbria's green countryside, just minutes from Perugia and Lake Trasimeno, and about 1.5 hours from Florence. The farmhouse overlooks cultivated fields, olive groves, and thickets with oaks and other native plants.
The exterior of La Rocca features stone walls, and the main building highlights brick window frames and buttresses. The interior showcases terracotta floors, stone walls, and vaulted or wooden ceilings.
Rodeo Realty agent Tina Fanelli Moraccini has the listing.