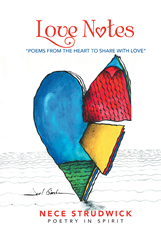 "By sharing my story of why I started writing, I hope to provide inspiration to others who need it and show people that writing is a great source for healing."
SARASOTA, Fla. (PRWEB) November 16, 2021
Nece Strudwick began writing poetry at 13 as a way of coping with her 21-year-old brother and best friend Trevor's murder. From this traumatic event, she was able to use her journals and her pens to calm her mind by rhythmically flowing words together. After college, Strudwick began her healing journey which made her stop to write and begin sharing her love poems. Her debut book, "Love Notes: Poems from the heart to share with Love" is her gift of healing for all who want to start their healing journey or enrich the one they are on.
Strudwick has taken eight aspects of love and expressed beautiful and meaningful poems in each of these chapters to touch the hearts and souls of every reader. She emphasizes the importance of self-love, how love is healing and that it is never too late to begin one's healing journey. "Love Notes" also serves as a source of inspiration for those interested in writing a love note to someone but are unsure of what to say.
"With 'Love Notes,' I want to support all of those that need healing by reading a poem, a chapter or the entire book," said Strudwick. "By sharing my story of why I started writing, I hope to provide inspiration to others who need it and show people that writing is a great source for healing."
As readers follow along, they will smile, cry and laugh. Ultimately, this poignant collection of poems will capture the hearts of readers and give them a reason to celebrate love every day.
"Love Notes: Poems from the heart to share with Love"
By Nece Strudwick
ISBN: 9781982264307 (softcover); 9781982264321 (hardcover); 9781982264314 (electronic)
Available at Amazon, Barnes & Noble and Balboa Press
About the author
Nece Strudwick has over 25 years of experience in wellness and holistic medicine and is able to teach and speak on the subject matter. Her background includes aromatherapy, massage therapy, reflexology, reiki healing, crystal healing and she is a teacher of kundalini yoga. She graduated from Binghamton University in New York where she became part of Alpha Kappa Alpha Sorority Inc. and was a DJ for the school's radio station WHRW. Strudwick used her poetry talents to record public service announcements for the station and to help with her sorority's step shows. A couple of years after college, she moved to Southern California. This move and a few years later having a baby boy, put her on a healing journey which made her stop to write and share some of her love poems. Merging her wellness background with her writing gives her an opportunity to help and heal more people. Strudwick's teachings on journaling and meditation helps with relaxation and other self-care, preventative and empowering tools individuals can do to maintain good health. She currently resides in North Port, Fla. To learn more, please visit http://www.necelovenotes.com.