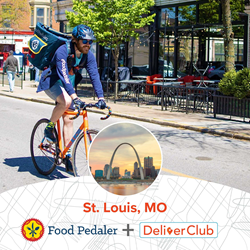 TAMPA, Fla. (PRWEB) July 21, 2020
Deliverclub.com has expanded its market to include three additional restaurant delivery services: Food Pedaler, servicing St. Louis, MO, Dine in Marin, servicing Marin County, CA, and Rapid Chow in Jefferson City, MO. The newest additions are part of a continued expansion by DeliverClub to provide convenient, discounted food delivery services to more customers across the United States.
Since its inception in 2018, DeliverClub has partnered exclusively with locally owned delivery services and grown to operate in over 60 cities and 24 states nationwide. As a preferred local food delivery option, DeliverClub provides impeccable customer service, nearly 6,000 local restaurant options, and small business-minded care and attention to detail.
DeliverClub takes a more playful, interactive approach to their online persona. While the social media video parodies have only recently emerged, the customer response and online feedback has been overwhelmingly positive. "The positive feedback and customer engagement has increased tenfold!" said Shane Broussard, DeliverClub's CMO. DeliverClub's social media engagement centers around pop culture references like movies, music, and sports. Adding their own spin, the DeliverClub team edits the videos to both entertain and present vital marketing messages.
New Deliver Club Markets:
Food Pedaler (foodpedaler.com), operating since 2013, is a hyper-local restaurant delivery service in the Central West End and Downtown areas of St. Louis. Food Pedaler delivers exclusively by way of bicycle and concentrates on specific neighborhoods. They pride themselves on remarkable food delivery times, resulting in the freshest food and highest customer satisfaction in the area! Nearly 40 national and local restaurants are available for delivery. Delivery fees will now be even lower with the partnership of DeliverClub (offering unlimited free and discounted deliveries).
Dine-In Marin (dineinmarin.com), serving Northern California's Marin County locales, has been in business since 2004. Another homegrown restaurant delivery service added to the DeliverClub network offering over 100 local and national restaurant options for delivery. With the newly minted DeliverClub partnership, Dine-In Marin customers will now enjoy even lower costs with the available unlimited free and discounted delivery subscription option.
Rapid Chow (rapidchow.com) hails from Jefferson City, MO, and has been serving the residents there since 2018. "Rapidly growing in popularity and trusted by the local community, the Missouri-based delivery service has earned a stellar reputation for service and customer satisfaction! Now offering the DeliverClub membership, Rapid Chow's customers will continue to enjoy fast, friendly service with unlimited free and discounted delivery fees!
DeliverClub is powered by delivery logistics software company DeliverLogic, Inc. Headquartered in Tampa, FL, DeliverLogic is the industry-leading turnkey solution for third-party restaurant delivery services since 2009. Ordering solutions include mobile-responsive websites, along with a full suite of consumer, driver, and restaurant apps. In addition to ordering solutions, DeliverLogic offers integrations for restaurant point-of-sale systems, on-demand driver payments, automated restaurant payments, and fully integrated automated marketing solutions. DeliverLogic provides all the tools needed for local delivery services to be successful in today's competitive and ever-changing landscape.