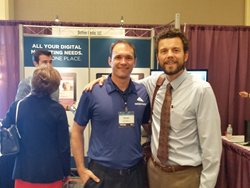 Each year, the brainstorming sessions are amazing and always result in new focus areas to help the franchisees grow - Michael Huth, CDO, Deliver Media
Omaha, Nebraska (PRWEB) April 22, 2016
Tampa-based marketing agency, Deliver Media, flew to Omaha, Nebraska to attend the Annual Home Instead Senior Care® Convention . This was Deliver Media's 7th annual Home Instead Senior Care Convention appearance and certainly the most successful. Their booth was packed with franchisees seeking advertisement and marketing advice during exhibit hours and even after hours.
In 2009, ten Home Instead Senior Care Franchisees started advertising with Deliver Media. Over the last 7 years, Deliver Media was able to increase their marketing service offering to the entire North America franchise network (over 600 locations). Deliver Media currently provides a variety of marketing services to over 450 Home Instead Senior Care Franchisees. They recently added Paid Advertising (PPC) and Email Marketing (Exact Target) to their suite of services and have been endorsed as a Preferred Vendor for marketing by the Home Instead Corporate Office.
Michael Huth, Deliver Media's CDO said, "It's great to see our clients in person and spending time learning together. Each year, the brainstorming sessions are amazing and always result in new focus areas to help the franchisees grow". Andy Bushnell and James Christensen also attended the convention and were collectively able to speak to hundreds of franchisees over the 2 days gaining front line knowledge into the business.
Mike Brunt, Home Instead Senior Care Franchisee from Beaverton, OR, was one of Deliver Media's original 10 clients. Each year Mike spends time with the Deliver Media team discussing the service needs of their clients and caregiver job recruitment at the convention. Mike and select franchisees will participate in a pilot program designed to increase these services, which will then be rolled out to all Home Instead clients that use Deliver Media.
About Home Instead Senior Care
Founded in 1994 in Omaha, Nebraska, by Lori and Paul Hogan, the Home Instead Senior Care® network provides personalized care, support and education to help enhance the lives of aging adults and their families. Today, this network is the world's leading provider of in-home care services for seniors, with more than 1,000 independently owned and operated franchises that are estimated to annually provide more than 50 million hours of care throughout the United States and 16 other countries. Services span the care continuum from providing companionship and personal care to specialized Alzheimer's care and hospice support. Also available are family caregiver education and support resources. At Home Instead Senior Care, its relationship before task, while striving to provide superior quality service.
About Deliver Media
Deliver Media is a full service marketing agency helping national franchises with local marketing solutions. Deliver Media provides data-driven direct mail programs, SEO, PPC, video and social media management services specifically scaled for multi-unit businesses. Deliver Media has the experience and knowledge to develop a custom made media campaign that is cost efficient and effective. Deliver Media was voted "Best Place to Work in Tampa Bay" in 2014 by the Tampa Bay Business Journal's Best Places to Work Awards. For more information visit: http://www.delivermedia.com.