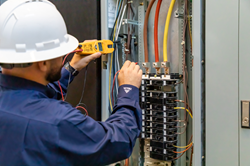 "I look forward to seeing us shape our company to meet the changing demands of our industry, marketplace and overall economy." - Tom Tripp, President & CEO, Delta
CRANSTON, R.I. (PRWEB) August 10, 2020
Cranston-based Delta Electro Power - a provider of sales and services of industrial and commercial electric motors, pumps, controls, power transmissions and associated equipment - acquired electrical company JJ McNamara & Son effective March 1, 2020.
According to Tom Tripp, President & CEO at Delta, "Our customers would consistently share their frustration with missed deadlines, downtime and response times from their electrical contractors. In some cases, our projects were held up waiting for outside electrical contractors." With the acquisition, Delta brings on a team of licensed electricians who average 25 years of experience per team member to support their sales and repair services.
Delta and JJ McNamara had been partnering for over 25 years. Tripp and JJ McNamara owner Bob McNamara recognized natural synergies between the two businesses, since both companies' customers were looking for end-to-end mechanical and electrical services across their systems and facilities. With the acquisition of JJ McNamara, Delta is now a one-stop-shop, providing turnkey system design, installation, upgrade and repair. Combining resources allows Delta to deliver against current customer needs and diversification while building a strong foundation to deliver future growth opportunities.
McNamara credits the companies' shared values as another reason for the acquisition and for his decision to stay on with Delta: "Delta & JJ McNamara have had a strategic partnership for as long as I have owned the company. Our shared values of integrity, customer focus and transparency have always been aligned and have forged a trust between ownership of both companies. This is another reason why I have chosen to stay on to lead Delta's Electrical Division."
Tripp adds that this acquisition is a first step to delivering on Delta's strategic growth plan, which will include future acquisitions. "We are laser focused on meeting our customers' future needs, fueling our growth and diversifying our offerings," Tripp says. "Our team is ready and up for the challenge; I look forward to seeing us shape our company to meet the changing demands of our industry, marketplace and overall economy."
If you would like more information about this acquisition, please contact Tom Tripp at tomt@deltamotor.com.
About Delta Electro Power
Delta is an owner-managed business that has served the New England market with quality sales and services of industrial and commercial electric motors, pumps, controls, power transmissions and associated equipment since 1977. Delta treats clients like family, caring for their needs and providing the level of service they would want to receive.
About JJ McNamara and Son
JJ McNamara and Son, Inc was founded by John J McNamara in 1973. After years working for a utility company, John's dream was to build a company that his family could be a part of. Initially, the company was focused solely on the residential market, but grew to the industrial and commercial markets. Bob, John's youngest son, took ownership in 1985 and instilled the foundational values that John built the business on to all new electricians: ensuring good customer relations and delivering high quality work.