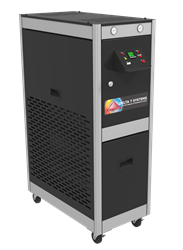 The Eco series TCU establishes Delta T System as the leader of green technology and energy savings in the industrial process temperature control industry.
RICHFIELD, Wis. (PRWEB) August 06, 2019
Delta T Systems Eco Series temperature control unit (TCU) utilizes a new pump design that creates 50% to 100% greater flow at the same pressure point on the pump curve, as compared to other current designs. This new pump's reduced energy consumption allows the Eco Series to be compliant with the Department of Energy's (DOE) 2020 Conservation Standards that will take mandatory effect as of January 2020.
The new Eco Series TCUs are available with pumps rated from ¾ hp to 3 hp and produce up to 130 GPM of output. The increase in pump output allows customers to select a lower horsepower motor for any given performance level, which will immediately lower their energy consumption by 20% to 50%.
The compact, black cabinetry of Eco Series TCUs combines analog pressure gauges and a digital display, along with a new two-tank design that allows for a maximum of 24kW of heating in the standard unit and 72kW in the upright unit. Water temperatures of up to 300°F are possible. Alternatively, the second tank can be used as a water-to-water heat exchanger for indirect cooling.
The introduction of the Eco series TCU establishes Delta T System as the leader of green technology and energy savings in the process temperature control industry. The Eco joins Delta T Systems' other energy efficient units such as their variable speed chillers and heater/chiller combo units.
Eco Series Safety Features:

Bi-metal switch that prevents overheating
Circuit protection for the motor
High temperature pump seal
Dry run protection for the heater
Additional Eco Series Design Improvements:
Design improvements and material selections make the Eco Series temperature control units less susceptible to traditional maintenance problems, and easier to maintain.

Industrial strength frame and cabinetry
Lift-off panels for easy access
IEC and UL compliant components
Compact heater design allows higher capacity in a smaller footprint
About Delta T Systems: Delta T Systems is an industry-leading manufacturer of temperature control units and process chillers based in Richfield, Wisconsin. With over 25 years of industry experience, and a team of knowledgeable engineers, Delta T Systems continues to bring cutting edge technology to market. Their insightful sales and support staff are available to assist with application questions, as well as standard and custom product specifications that ensure successful installation, operation, and maintenance.