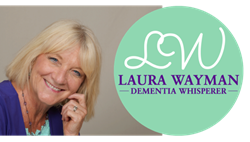 "Over half of the caregivers (especially if they are a same-age spouse) get sick or pass away before the person they are caring for. This is primarily due to the overwhelming and relentless stress of caring for an individual with any cause of dementia." - Laura Wayman
SACRAMENTO, Calif. (PRWEB) November 29, 2018
November is Alzheimer's Awareness Month, a time to learn about the disease and the worldwide health crisis it has created. To help in the effort, Laura Wayman, a dementia care expert, professional speaker and author, has made available a free webinar for dementia caregivers.
Wayman has made it her mission to provide primary caregivers of those suffering from dementia symptoms with a relatable understanding of dementia. Being "dementia aware" means accepting that no one can currently stop, fix, or change dementia, and changing the way the world thinks about the disease by reducing stigma and increasing positive interactions between caregivers and patients.
There are currently 5.7 million Americans living with Alzheimer's and by 2050, that number is expected to jump to almost 14 million, according to the Alzheimer's Association. In addition, Alzheimer's disease is the 6th leading cause of death in the U.S. – deadlier than breast cancer and prostate cancer combined. The crisis isn't limited to the U.S., however. It is estimated that nearly 50 million people worldwide are suffering from the disease, according to Alzheimer's Disease International.
This is why Wayman is offering a free webinar that delivers strategies for a caring, loving approach to dementia care. She hopes this will help make more people "dementia aware."
"I want to give people an education and an understanding about dementia, as well as specialized training and practical strategies on managing behaviors that are problematic," Wayman said. "We must spread the dementia awareness necessary to make a difference and influence dementia care everywhere in a positive way – in physical health care, psycho-social support and overall care attitudes and practice."
Wayman believes there is a lack of awareness and understanding of dementia, resulting in stigmatization, barriers to appropriate diagnosis and health care, and a negative impact on caregivers, families and societies from a physical, psychological and economic standpoint. This widespread "dementia-denial" is a hindrance to putting systems in place to protect against many kinds of potentially dangerous and disconcerting behaviors, allowing the person with dementia symptoms to continue unchecked until someone is harmed. And the concern is not just for the person diagnosed with any cause of dementia symptoms, the primary caregiver is at extreme risk as well.
"Over half of the caregivers (especially if they are a same-age spouse) get sick or pass away before the person they are caring for. This is primarily due to the overwhelming and relentless stress of caring for an individual with any cause of dementia," Wayman said.
Wayman's dementia care program that is detailed in her book, A Loving Approach to Dementia Care, puts an emphasis on communication, affirmative response and empowerment. In turn, the caregiving process is transformed from a burden to a rewarding journey. The points are explained through true stories from Wayman's dementia training experience.
To participate in Wayman's free webinar, click here. To purchase the second edition of A Loving Approach to Dementia Care, click here.
For more information and dementia resources for caregivers, visit laurawayman.com.
About Laura Wayman
Laura Wayman is the author of "A Loving Approach to Dementia Care," (now in its second edition, a 36-Hour Day Book), published by Johns Hopkins University Press. She holds an Associate in Arts degree in gerontology and is a certified social services designee. She has more than a decade of experience in and a strong dedication to quality aging. She is a professional dementia care consultant, trainer, the CEO of The Dementia Whisperers and a speaker on dementia and issues of aging.