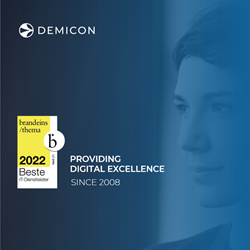 BERLIN (PRWEB) November 18, 2021
DEMICON has been nominated as one of the "Best IT Service Providers of 2022". The nomination results from a large-scale online survey conducted by the renowned German business magazine brand eins in cooperation with Statista, one of the biggest German online portals for statistics.
In the survey, almost 6,000 IT service providers and their customers recommended companies they would choose to work with for IT projects and consulting services. DEMICON, one of the leading IT service providers in the DACH region, was recognized in the following categories for its comprehensive know-how: Managed Service, Cloud Service, and IT Consulting.
"We are proud to be awarded this certification. It acknowledges our team members who have focused on combining many years of expertise with customized strategies and modern solutions. The recommendation from both IT experts and their customers shows that we have successfully established DEMICON as a strong partner for companies on their path to digital transformation. This makes the positive result particularly valuable for us," says Philipp Batman, DEMICON Managing Director.
Since 2008, the company has been pursuing the vision of making companies in Germany, Austria, and Switzerland fit for the future with exceptional digital solutions.
About DEMICON
DEMICON is a multi-award winning IT service provider with 14 years of experience and one of the leading AWS and Atlassian Platinum & Enterprise Solution Partners in the DACH market. DEMICON has built a legacy based on deep technical expertise and strategic thinking, combined with a people-first approach. Our services range from customized software development and implementing scaled, agile methods, such as SAFe, to consulting on agile processes and hosting seminars and workshops. Our team of experienced Enterprise Architects, Technical Consultants, Software Engineers, Business Consultants and Project Managers provide a wide range of solutions to help companies reach their digital goals.
DEMICON has over 70 employees in five countries and offices in Berlin, Hamburg, Munich and Stuttgart.