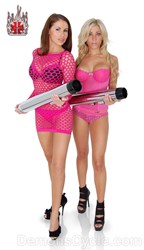 Pompano Beach, FL (PRWEB) January 14, 2014
Demon's Cycle Inc., a custom Harley motorcycle builder and custom motorcycle parts supplier, is pleased to announce that it has added to its range of mufflers to include slip-on models for Harley-Davidson Baggers and Dressers.
The new mufflers offer great performance and add a distinctive sound to Harley motorcycles. As always, Demon's Cycle has managed to keep the price of these units as low as possible without compromising quality.
The mufflers come in chrome and black finish. The chrome sets are triple plated while the black sets have a resistant flat black finish. When these mufflers are fitted to a motorcycle they change the sound to a more tough, steady low rumble.
All the mufflers are designed to create a smooth power band and the race-proven design of the inner chambers have been shown to increase torque and horsepower.
Because the mufflers have a slip-on design they can be easily fitted without needing to disassemble your bike's manifold.
"Adding a slip-on muffler is so easy and it quickly adds to the distinctiveness of your motorcycle," said Tom Steinbacher, owner of Demon's Cycle. "Our muffler range not only produces that wonderful low rumble they also increase torque and horsepower while drastically cheaper than competition."
Its muffler range is just one example of Demon's passion about offering the very best spare, custom and replacement parts at the lowest possible prices without compromising on quality.
About Demon's Cycle
Based in Pompano Beach, South Florida, Demon's Cycle is an multimillion dollar international custom motorcycle wholesale parts company. It was started more than nineteen years ago by Tom Steinbacher and has developed a reputation as a pioneer of radical motorcycle designs, euro style bikes and custom Harley chopper concepts. As well as building custom motorcycles and selling rolling chassis, Demon's Cycle specialize in the sale of custom parts for Harley-Davidson motorcycles. They offer a wide range of parts including handlebars, hand controls, tires, gas tanks and turn signals.
Contact
Demon's Cycle Inc.
1407 SW 10th Ave.
Pompano Beach, FL 33069
Telephone: 9549430000
Fax: 9549430377
Email: sales(at)demonscycle(dot)com
Web: http://www.demonscycle.com