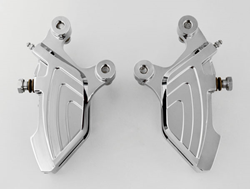 We have just increased our stock of brake calipers to meet customer demand.
Pompano Beach, FL (PRWEB) April 30, 2014
Demon's Cycle Inc., a custom Harley motorcycle builder and custom motorcycle parts supplier, is pleased to announce that it has received a new shipment of front 4-piston chrome billet brake calipers for all Harley-Davidson FL Touring, Dressers, Bagger, Roadking models with 11.8 inch rotors.
Designed for all 2008 and onwards Road Glide, Street Glide, Ultra Glide, FLH models, the calipers come in sets of two and are engineered for maximum braking performance while offering show quality looks. They are manufactured from 6061 billet aluminum which offers an excellent strength to weight ratio when compared to cast aluminum. The calipers also use a direct bolt attachment method which ensures rigid and clean mounting.
The design of the calipers ensures that there is equal heat distribution throughout the brake pad and onto the rotor interface. This in turn provides optimum friction dynamics. To ensure the best brake caliper response and brake lever feel, the differential bore ratio and total volumetric displacement have been specially optimized.
"Changing your brakes is important for performance and for road safety. We have just increased our stock of brake calipers to meet customer demand," said Tom Steinbacher, owner of Demon's Cycle. "These particular brake calipers fit Harley-Davidson Baggers, Dressers and Road King dual disc touring models. However Demon's Cycle also stocks brake calipers for Other Softail, Sportster and Dyna Harley-Davidson models."
Demon's Cycle packages its chrome billet aluminum front 4-piston brake calipers sets with brake pads and all the necessary mounting bolts.
About Demon's Cycle
Based in Pompano Beach, South Florida, Demon's Cycle is a multimillion dollar international custom motorcycle wholesale parts company. It was started more than nineteen years ago by Tom Steinbacher and has developed a reputation as a pioneer of radical motorcycle designs, euro style bikes and custom Harley chopper concepts. As well as building custom motorcycles and selling rolling chassis, Demon's Cycle specialize in the sale of custom parts for Harley-Davidson motorcycles. They offer a wide range of parts including handlebars, hand controls, tires, gas tanks and turn signals.
Contact
Demon's Cycle Inc.
1407 SW 10th Ave.
Pompano Beach, FL 33069
Telephone: 9549430000
Fax: 9549430377
Web: http://www.demonscycle.com