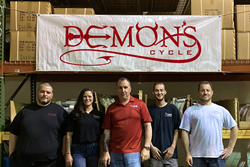 We are completely changing the way things are done and our followers and customers are going to love it. We are really excited.
POMPANO BEACH, Fla. (PRWEB) November 14, 2019
Demon's Cycle, one of the largest online retailers of custom Harley Davidson motorcycle parts, has announced that the company is under new ownership. Over the summer of 2019, Jason Dooley purchased the company and announced major changes that will take place before the end of the year and early part of 2020. These changes include a new website, the hiring of a new customer service staff, the expansion of inventory, faster delivery services and more.
"When I looked at Demon's Cycle last year, I saw plenty of areas that needed attention and improvement. However, I also saw real potential in a company that has thrived for over two decades and needed some new life pumped into it. Thousands of motorcycle lovers use this company to upgrade their Harley handlebars, wheels, lights, tires and more. People rebuild their entire bike based on what we have in stock, but they have had a hard time navigating through our site or getting help when trying to find parts. Improving the customer experience was one of the first thing I wanted to fix." Jason Dooley, owner of Demon's Cycle,
The new website launched this week and has already been received favorably by customers. One of the features Dooley wanted to add allows visitors to select parts based on the Year, Make and Model of the bike they own, rather than having to mix and match different options. Along with that, the company will be starting monthly contests on social media including Facebook and Instagram, weekly promotions for different Harley Davidson parts and more.
"I want people to enjoy their time on our site and while they follow us. On Wednesday you can get a deal on a custom set of Harley handlebars. On Saturday you can enter for a chance to win something from our shop just because you are a follower. On the following Tuesday, you can check out a new blog with tips and ideas on how to improve your bike. The following week you get an email with an exclusive offer, just for being a follower. We are completely changing the way things are done and our followers and customers are going to love it. We are really excited." - Jason Dooley
For more information about Demon's Cycle, please contact: mailto:info@demonscycle.com
For over 25 years, Demon's Cycle has been an industry leader in custom Harley Davidson parts that are available online. The company is based in Pompano Beach, Florida and has customers from all over the world. The business has also been featured in reality television shows in Europe and several motorcycle enthusiasts' magazines around the United States. If you have any questions about this information or the company, please feel free to contact us today.