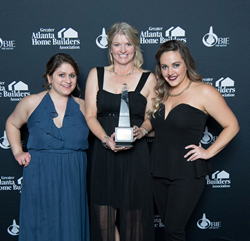 We are an industry leader in social media and thrilled to be recognized for our work!
ATLANTA (PRWEB) November 15, 2018
Denim Marketing is proud to announce it won two OBIEs at the Greater Atlanta Home Builders Association's 38th Annual OBIE Awards. The rebranded firm found its "fit" within the marketing category by winning a Gold OBIE for Best Social Media Campaign – Associate and a Silver OBIE for Best Website – Associate. Presented by the Atlanta Sales and Marketing Council, the OBIE Awards are the premier awards given in the Atlanta new home construction industry.
"Denim Marketing is known for creating quality content for our clients, most notably for public relations, blogs and social media – we have been recognized 10 years in a row with Gold or Silver OBIE Awards in interactive marketing, social media and other digital marketing categories," Denim Marketing Founder and Owner Carol Morgan said. "We always like to show off a little bling. We are an industry leader in social media and thrilled to be recognized for our work. Try us on for size, you will find Denim to be comfortable, reliable and personal. Our agency isn't one size fits all – neither are jeans!"
Best Website – Silver
When it came time for a new website, http://www.DenimMarketing.com, it was important for the site to cohesively present the agency's brand promise. The website is designed to reflect the fun Denim brand with eye-catching graphics, colors and movement. The site offers a user-friendly experience with parallax-like functionality that engages site visitors as they browse the site to see all that Denim Marketing has to offer.
Online visitors enjoy a vibrant and seamless view of Denim Marketing and the company culture. Denim is a team of passionate writers and artists who use our creative flare and expertise to help build brands and maintain client's online presence through strategic marketing, media relations, social media, blogging, campaigns and more. The website has been tailored, hemmed and tapered just like your favorite pair of jeans to offer a perfect fit.
A very special thanks to Beardo.co for designing and building the Denim Marketing website.
Best Social Media Campaign - Gold
Denim Marketing launched the Denim Fuel social media campaign to promote its branding, as well as the new Denim-branded beverage tumblers. The tumblers were given out at every event the Denim team sponsored, as well as to raving fans. The Denim team often hears from clients and friends that they start their morning in Denim. No, not jeans (although some of us may be wearing them), we mean the tumblers!
The contest also aligned with the Denim mission to fuel its clients, whether that's creating strategic marketing plans, blog posts, social media or public relations. The campaign ties together the drinks that fuel or bodies with the great marketing that fuels branding and leads.
The multi-site campaign was designed to help Denim Marketing fans and followers kick-start the day with their favorite beverage, a.k.a. fuel. During the month of March, the Denim team shared a weekly fuel-inspired question to its Facebook, Instagram and Twitter pages. Participants were asked to share a selfie of themselves drinking their morning fuel, whether it be coffee, tea, an energy drink, etc., and/or answer the question using #DenimFuelContest.
The Greater Atlanta Home Builders Association's OBIE Awards began in 1980 and have grown throughout the years to include more than 100 building, remodeling, marketing and personal achievement categories. The OBIE Awards are named after the obelisk shape of the actual award given.
Visit http://www.DenimMarketing.com to sign up for the Denim newsletter, view the full portfolio and more. For information on packages and finding the perfect fit with Denim Marketing, call 770-383-3360.
About Denim Marketing:
Whether stonewashed, faded or indigo blue, marketing strategies from Denim Marketing are tailored to meet each client's needs and niche. Established in 1999 as Flammer Relations, Denim Marketing began with the basics, providing public relations services to clients. The company has expanded its services over the years to become a full-service strategic marketing agency specializing in strategic marketing, media relations, blogging, social media, promotions, advertising and much more. Denim Marketing aims to be a go-to source for companies looking for a comfortable fit, strong relationships and results. Stay in touch with Denim Marketing by signing up for the newsletter at http://www.DenimMarketing.com and following @DenimMarketing on social media. For more information, call 770-383-3360 or email Carol@DenimMarketing.com.