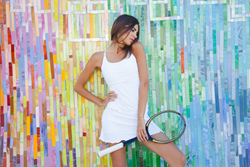 What you wear paints a picture of who you are
Miami, FL (PRWEB) August 25, 2015
It is no secret that athletic fashion is the hottest thing in fashion right now. An allure of new and established apparel brands are offering their proposals for the upcoming season and that includes the flourishing Miami based designer - Denise Cronwall.
Denise Cronwall Activewear was born in the Magic City of Miami and has quickly been picked-up by distinguished retailers and boutiques nationwide and online. The line is crafted with a feminine design aesthetic encompassing a warm Latin touch appealing to the quickly growing Latin demographic in America.
Denise Cronwall Holiday/Spring 2016 Collection offers an array of sophisticated styles. The collection includes bra tops, layering tops, tanks and delicate pullovers that can be paired with training pants, capris, shorts or skirts. The figure flattering tank tops and the compression capris and leggings with their body shaping fit and innovative pockets, are expected to be the hot athletic fashion sellers this season. Another novelty is the on-point golf looks also offered starting Holiday 2015. Exciting details like an innovative embossed print and shinny details are present throughout the collection.
"What you wear paints a picture of who you are," Denise says. In the action-packed lifestyles we live today, we need clothes that allow us to transition from one activity to the next without compromising style. Denise Cronwall Activewear is feminine, flattering and multifunctional clothing with elegant details. The line caters specifically to women that enjoy wearing something unique that fits them beautifully and makes them turn heads.
All Denise Cronwall collections are crafted around the philosophy of having few but meaningful belongings and that design and craftsmanship separates a garment that you wear once from one you love and want to keep forever. Denise Cronwall Activewear is designed and manufactured locally in Miami, USA.
The Denise Cronwall Holiday/Spring 2016 Collection will be available for purchase online http://www.denisecronwall.com and at several distinguished retailers starting November 2015.
About Denise Cronwall Activewear
Denise Cronwall started her eponymous boutique-style activewear line in 2010 and it quickly gained a following in South Florida and has now expanded to 200+ select stores throughout the US. Denise Cronwall's designs that combines her trademark detailing and lace are refreshing in a sea of outfits dominated by only a few manufacturers. These feminine designs can be used for tennis, golf, gym, yoga, running and more. For more information, please visit http://www.denisecronwall.com