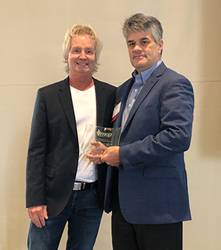 Dennis exemplifies service to the energy delivery industry...
BLOOMINGTON, Minn. (PRWEB) October 17, 2018
Dennis Klumb, Jr., president and CEO of KS Energy Services, LLC, was inducted into the MEA Energy Association Hall of Fame at the recent MEA Fall Executive Roundtable in Chicago, IL. The MEA Hall of Fame recognizes members who exemplify great leadership and professionalism. Inductees have contributed their time and expertise to the energy delivery industry through service on MEA committees and at MEA in-person training and educational events.
"Dennis exemplifies service to the energy delivery industry," says Patrick Van Beek, president of MEA. "He has made many contributions to MEA over the years. He has served on numerous MEA committees, the Board of Directors and as our Treasurer. His participation and involvement continue to make MEA a better association."
Inductees of the MEA Hall of Fame are nominated by fellow MEA members and are approved by the MEA Board of Directors.
MEA has honored Hall of Fame inductees for 16 years. For a complete list of inductees, visit https://www.meaenergy.org/outreach/awards. For questions, contact John Gann at johng (at) MEAenergy (dot) org or call (651) 289-9600 x105.
About MEA:
MEA serves the people that deliver electricity and natural gas to homes and businesses. We were founded as a trade association over 110 years ago by distribution utilities whose vision was to improve safety and efficiency. Today, we fulfill the same purpose through education, leadership development, and industry connections. Energy delivery companies, contractors, and suppliers around the country benefit from our 55 summits, roundtables, and webinars, 400+ online technical courses, safety assessments, evaluator training, operator qualification compliance tools, and leadership courses for field personnel.