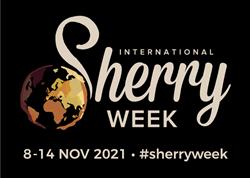 NEW YORK (PRWEB) November 02, 2021
Vinos de Jerez is excited to announce the return of the 8th annual International Sherry Week that will run from November 8 - 14th, 2021. This worldwide celebration of Sherry wines will directly coincide with the Copa Jerez Competition, with over 250 food and beverage professionals from eight different countries gathering at the Villamarta Theatre in Jerez de la Frontera, Spain, on November 9-10th, 2021. Sommelier Jordi Paronella and chef Nicholas Lopez from Mercado Little Spain of Think Food Group in Hudson Yards, New York City, will be representing the United States.
Building on the success of the 2020 International Sherry Week events, thousands of restaurants, bars, wine stores, wine educators and bodegas across the world will hold Sherry tastings and offer pairing menus, as well as other Sherry-themed events, to share the joy of the superb wines from the Sherry Triangle. To ensure that all Sherry lovers can participate, virtual chats, webinars, tastings and interviews will be offered online and on social media, making these wines even more accessible to aficionados and professionals in every corner of the world.
Virtual Sherry Pairing Demonstration with Cúrate: Sunday, November 14th, 5 pm EST - César Saldaña, President of Vinos de Jerez, along with Chef Katie Button and Félix Meana of ​​Cúrate: Tapas Bar, La Bodega, Wine Club, and Trips will be hosting a virtual tasting and cooking demo in celebration of International Sherry Week 2021. Katie, Félix and César will guide guests through​ a tasting of classic Spanish ingredients shipped fresh from Cúrate at Home, paired with wines in the Fino, Oloroso and Pedro Ximénez styles. To attend the event, registration is through Zoom, with food experience packages available through Cúrate at Home and wines can be found through Sherry Wines to find a local retailer.
Sherry Fair: November 13th at The Gibson bar in Washington DC - A variety of activities including Sherry flights, rebujitos (the Sherry-based drink of the Seville Spring Fair), games, and raffles.
Virtual Tasting Event with Binny's Beverage Depot: November 12th, 2021 at 12pm CST - Join Alicia Barrett, Wine Educator Binny's and President of Vinos de Jerez, César Saldaña, for an in-depth tasting and discussion on Instagram live. Binny's will also have promotions on Sherry for the duration of Sherry Week.
"Sherry Week is a great opportunity to share with consumers the vast knowledge from all our varied activities - Sherry Cocktail Competitions, seminars, masterclasses, and our Sherry Educator Programme," says César Saldaña, General Manager Sherry Wine Council, Jerez-Xeres-Sherry. "Professionals in the wine and gastronomy sectors can spread the word about Sherry to enthusiasts, whether newcomers or experienced. So we're not only connecting Sherry lovers from around the world but also supporting all our collaborators."
For more information about International Sherry Week, visit sherry.wine or shop.sherrywines.us. To find International Sherry Week events near you visit https://www.sherry.wine/sherryweek/events.
About Sherry Wines
Sherry is a fortified wine which can only be produced in the "Sherry Triangle'' – formed by the towns of Jerez de la Frontera, El Puerto de Santa Maria, and Sanlucar de Barrameda in the province of Cadiz, south-western Spain. The Consejo Regulador's role is to protect the Denomination of Origin (DO) Jerez-Xeres-Sherry and Manzanilla-Sanlúcar de Barrameda, ensuring that no wine from any other geographical area is sold as Sherry wine. DO Jeres-Xerez-Sherry and Manzanilla-Sanlúcar de Barrameda is the oldest DO in Spain, and has 2,800 wine-growers. Wine has been produced in the area since Roman times, and Sherry has been exported around the world since the 16th century
About Parallel 36
Parallel 36 focuses on marketing and communications providing strategic advice and execution for brands in the beverage alcohol category. A 'business results' oriented agency, Parallel 36 integrates business development, trade marketing, and consumer activations expertise with digital marketing, content creation and media relations. Leveraging relationships across the U.S. beverage alcohol industry, Parallel 36 accelerates the success of clients.