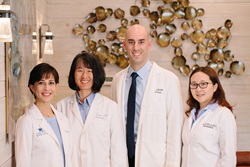 "The opportunity to . . . work alongside [these] professionals is a privilege" - Dr. Liliana Gandini
Chapel Hill, North Carolina (PRWEB) May 12, 2017
Dr. Liliana Gandini, a popular periodontist in the Durham and Roxboro area, joined the NC Periodontics and Implant Center in Chapel Hill, NC last month.
Gandini joins Drs. Craig Dorion, Waka Kadoma and Alice Wu to form the largest group practice of periodontists in the Triangle area.
"The opportunity to join [this practice] and work alongside professionals like [Drs.] Dorion, Kadoma and Wu is a privilege," said Gandini. "I love having the ability to collaborate with the doctors and the staff. They've all been very welcoming and I already feel at home here."
"Our mission is to provide the highest level of customer service by offering a customized, individual experience for each patient for all treatments from LANAP to dental implants," says Director of Public Relations Lisa Goodman. "Dr. Gandini is a great match for this practice as she embodies the core values that we expect from all members of our team. We are very fortunate to have her on-board."
Craig Dorion, the owner of the practice, echoed a similar theme of excitement
"It's only been a few weeks and she's already established a strong presence within our practice," said Dorion. "It's great having her here."
Gandini joins the practice after previously working with Advanced Orthodontics and Periodontics, located in Durham and Roxboro. She emphasized the importance of her Roxboro location and it's ability to serve her patients long term.
"Being able to maintain the relationships I've built over the years is still a strong priority of mine," said Gandini. "I will be splitting my time between the NC Perio and Roxboro offices. This allows me to see my Durham patients in the Chapel Hill office while continuing to treat my current patients in the Roxboro area."
Liliana Gandini, who has been practicing since 1993, earned her dental degree in Bogota, Colombia and received her Doctor in Dental Medicine (DMD) degree from the University of Puerto Rico. She completed a two-year program in Advanced Education in General Dentistry (AEGD) as well as her postgraduate periodontal specialty training in 1993 at the University of Rochester's Eastman Dental Center.
After actively involving herself in several clinical research projects, with emphasis in aggressive forms of Periodontitis and Guide Tissue Regeneration, she returned to both the Eastman Dental Center and the University of Puerto Rico to serve as a clinical professor. With hundreds of dental implant procedures under her belt, as well as being LANAP certified, she has used that knowledge to publish various scientific articles in peer-reviewed periodontal journals.