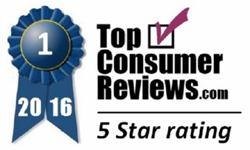 Finding the right Dental Insurance can be daunting, but DentalPlans makes it easy for individuals and families to afford the dental procedures they need.
Overland Park, KS (PRWEB) November 23, 2016
TopConsumerReviews.com recently gave a best-in-class 5 star rating to DentalPlans, a leader among online providers of dental care plans.
More than half of people in America are not covered by a dental insurance plan. With rising health insurance premiums, many individuals find that their employers are no longer providing the same level of coverage offered previously. Additionally, in families where children qualify for state-subsidized health insurance, parents may not be eligible for similar coverage and find themselves looking for options for care. Dental insurance plans are a smart way to reduce or even eliminate the expensive costs of fillings, X-rays, and more serious situations like broken or knocked-out teeth. In today's marketplace, finding the right dental insurance coverage is as simple as going online and using one of the websites that specialize in connecting individuals and families with plans that meet their needs.
"Finding the right Dental Insurance can be daunting, but :DentalPlans makes it easy for individuals and families to afford the dental procedures they need," explained Brian Dolezal of TopConsumerReviews.com, LLC. "Since 1999, DentalPlans has been a leading source of discount dental plans and currently carries more than 30 plans to choose from. Just enter your zip code to get a list of all of the plans available in your area. Then use their simple tools to compare those plans by features, savings, and benefits. Or, if you already have a dentist you would like to keep, simply search by name to find the plans that include him or her. With an easy-to-use website and an excellent reputation as demonstrated by testimonials from some of their many happy customers, we are pleased to give DentalPlans our top rating among providers of Dental Care in 2016."
To find out more about DentalPlans and other sources of affordable dental care, including reviews and comparison rankings, please visit the Dental Insurance category of TopConsumerReviews.com at http://www.topconsumerreviews.com/dental-insurance/.
About DentalPlans
DentalPlans, founded in 1999, is a leading dental and health savings marketplace in the U.S., helping more than a million people to affordably access quality healthcare services. They provide comprehensive resource centers aimed at helping people to maintain/regain optimal health, and successfully navigate the maze of healthcare payment options (including Obamacare and Medicaid.) They offer user-friendly access to a wide selection of traditional dental insurance and 30+dental savings plans, along with innovative healthcare offerings including telemedicine, medical advocacy, and online counseling services.
About TopConsumerReviews.com
TopConsumerReviews.com, LLC is a leading provider of independent reviews and rankings of hundreds of consumer products and services. From Dental Insurance to Elliptical Machines and Medical Alert Systems, TopConsumerReviews.com delivers in-depth product evaluations in order to make purchasing decisions easier.