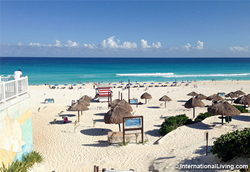 "It's a little weird, the idea of a 'dental vacation,' but if we had the work done in the U.S., we would not have the money for a family vacation"
BALTIMORE (PRWEB) October 08, 2019
For many Americans, dental insurance is limited in what it covers, meaning half or more of the cost for procedures is paid out of pocket. Yearly insurance payouts are generally capped at around $1,500—which doesn't go far. And an estimated 114 million people have no dental insurance, including 46 million people who are 65 or older. (Standard Medicare does not cover any dental work.)
When a simple exam from a dentist averages about $200 in the U.S. without insurance, a filing will run $300, a root canal or crown comes in at about $1,000, and something major like implants will be several thousand per tooth—it's no wonder Americans are stressed about their dental care.
Yet in countries like Costa Rica, Panama, Mexico, Malaysia, and beyond, dental care costs average 60% to 80% less than in the U.S.. In fact, in many cases, the combined price of a plane ticket, hotel stay, and a vacation before or after a procedure is less than the price of the procedure alone in the U.S.
Industry watchers say that more than 400,000 Americans seek dental care abroad each year, with the number increasing each year. (This is also the case with medical care. Each of these countries has a thriving medical tourism industry as well, with patients seeking knee replacements, laser eye surgery, cosmetic procedures like facelifts, and other care for a fraction of the cost.)
International Living editors and correspondents have experienced this firsthand.
"It's a little weird, the idea of a 'dental vacation,' but if we had the work done in the U.S., we would not have the money for a family vacation," explains Sherri Caldwell, whose family has made multiple trips to Mexico for dental care. "This makes going to the dentist a lot more fun for the whole family."
It was on a family trip that the Campbells had their first experience with Mexican dentistry. They didn't get any major work done, but did indulge in full cleanings, exams, and a consultation with the dentist. One area of concern were some old fillings and crowns that the couple had done in the U.S. Sherri explains that even though they had dental insurance, trips to the dentist were always very expensive and they delayed thousands of dollars of recommended work due to timing and cost.
"Even with basic dental insurance, our four cleanings, exams, and x-rays ($100 each), with four fillings (average $150) and custom mouthguard ($400), would have been about $1,500 at our dentist in the U.S. We paid $513 in Mexico—one-third the cost," says Sherri.
In March 2017, the Caldwell's extended family went to Cancún for dental work and a vacation at the same time. They stayed in an all-inclusive resort.
"The in-laws convinced my brother-in-law to visit Cancún for dental first. He had some major work that needed to be done. The estimate from his dentist in Seattle was over $10,000. He ended up taking his wife and two teenagers to Cancún for a week, staying at a very nice all-inclusive resort, getting his work done and dental care for the whole family, for less than $6,000—including the vacation and airfare."
Kathleen Evans, International Living's Costa Rica correspondent, lives in Tamarindo, on the northern Pacific coast of Costa Rica.
"Since I travel back to the States each year, I had continued to see my U.S. dentist ,for simplicity," says Kathleen. "But he recently retired and for the first time, I had my teeth cleaned at a clinic in the beach town of Tamarindo. It was the best teeth cleaning experience of my life. My dentist spent a lot of time going over my history and shared her recommendations. She also gave me a jaw massage with essence of lavender before the cleaning and applied lip balm to keep my lips moist and comfortable during the procedure.
"I have never had a dentist anywhere work with such care. The office had all modern equipment and the cost was just $53 for the cleaning. They applied a 20% discount, which was negotiated through my private insurance plan. Normally they charge $66. I would have no issue having any kind of dental work done in Costa Rica."
Jason Holland, International Living's Roving Latin America Editor, says it's cheap to get dental work done abroad without sacrificing quality. Dentists are well-trained and, thanks to their education, often speak English. They often have the newest equipment and are familiar with the latest techniques. The offices are modern and clean. The staff are qualified, kind, and caring. Often, he says, they won't speak much English, but many offices have translators, if needed. Most people who've traveled abroad for dental care report good results and an overall pleasant experience.
Why is it so cheap? Like with medical care, which is also cheaper abroad, dentists don't have to pay exorbitant rents for their office, malpractice insurance, or high staff salaries. The savings are passed on to the patients.
"My family and I have experienced this first-hand in Costa Rica and Mexico," says Jason. "Luckily, we haven't had any major issues. But our regular cleanings, with exam and x-rays, in both places cost around $40. I ended up needing a few fillings replaced in Mexico—at a cost of $30 per tooth.
"One provider in our current home in San Miguel de Allende, Mexico recommended braces for my son and quoted $500 for the entire treatment; when we mentioned this to a friend in the U.S. whose daughter was getting braces, they were dismayed at how much they were paying. And in Costa Rica, it was no surprise to have a friend show up at a gathering with a noticeably whiter smile. Laser teeth whitening costs about $200, compared to about $600 in the U.S.—and it's a cosmetic procedure definitely not covered by insurance."
Finding a dentist abroad is increasingly easy. Many dental providers have websites and English-speaking coordinators who make arrangements and answer questions, says Jason. It's important to get recommendations (from family or friends or by checking expat Facebook groups for that area) and read online reviews.
"You simply send them your records, x-rays, and any other relevant material—which your regular dentist should provide you," says Jason. "From there, the overseas provider will review your case, recommend treatment options, and quote a price. This is all finalized once you get to the office. But before you arrive you already know, in general, how much you'll be paying."
The full report on dental work abroad, including a cost comparison chart, can be found here: Save Up to 80% on Your Dental Care and Take a Vacation
Editor's Note: Members of the media have permission to republish the article linked above once credit is given to Internationalliving.com
Further information, as well as interviews with expert authors for radio, TV or print, is available on request. Photos are also available.
For information about InternationalLiving.com content republishing, source material or to book an interview with one of our experts, contact PR Managing Editor, Marita Kelly, +001 667 312 3532, mkelly@internationalliving.com
Twitter: @inliving
Facebook: https://www.facebook.com/International.Living/
About International Living
Since 1979, Internationaliving.com has been the leading authority for anyone looking for global retirement or relocation opportunities. Through its monthly magazine and related e-letters, extensive website, podcasts, online bookstore, and events held around the world, InternationalLiving.com provides information and services to help its readers live better, travel farther, have more fun, save more money, and find better business opportunities when they expand their world beyond their own shores. InternationalLiving.com has more than 200 correspondents traveling the globe, investigating the best opportunities for travel, retirement, real estate, and investment.