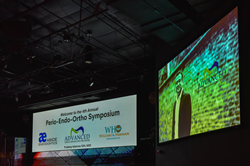 A Dental Conference Benefitting a Great Cause
SOUTHAVEN, Miss. (PRWEB) November 25, 2021
A wide variety of dental professionals from the Mid-South and beyond gathered for the 4th Annual Perio-Endo-Ortho Symposium on Friday, September 24, 2021, at the Southaven Campus of Compel Church.
"It was a very good turnout," said Dr. Pradeep Adatrow, owner of Advanced Dental Implant and TMJ Center and organizer behind the Perio-Endo-Ortho Symposium. "We were glad to welcome everyone who was there."
The theme of the symposium was "A Dental Conference Benefitting a Great Cause," and attendees were able to earn up to eight hours of required continued education credits for dental professionals in Tennessee, Mississippi, and Arkansas while supporting a local charity organization.
The event, which saw more than 200 dentists, dental hygienists, and dental assistants, raised $15,000 in support of Trinity Health Center, a faith-based nonprofit organization in Horn Lake dedicated to providing healthcare for the working uninsured in Desoto County. All registration proceeds from the conference were donated to the organization by Adatrow.
"I chose Trinity Health Center this year because they are doing a very important service for underprivileged people in Desoto County who do not have access to medical care," said Adatrow. "Trinity Health Center is able to provide this very important service on a sliding scale at a highly subsidized rate."
Featured speakers of the 4th Annual Perio-Endo-Ortho Symposium included Dr. Cory Glenn, whose comprehensive presentation focused on everything from 3D printed crowns to digital orthodontic aligners to full-arch guided surgery; Dr. Sreenivas "Sree" Koka, who spoke to guests on the subject of what really matters in life; Dr. Nathan Hamman, who presented an array of common orthodontic problems and solutions; and Dr. Wayne McElhiney, who offered cautionary advice and in-depth analysis of opioid addiction and prescription writing in a three-hour presentation. Adatrow and Hamman served as hosts of the conference alongside Dr. Andrew Abide, owner of Abide Endontics.
About Advanced Dental Implant and TMJ Center
Advanced Dental Implant and TMJ Center provides personalized and specialized Dental Implant and TMJ care for the Memphis Area and in Southaven, MS. The Founder, Dr. Pradeep Adatrow is a board-Certified Periodontist and Prosthodontist. Along with a devoted team of dental hygienists, assistants, and administrative staff Dr. Adatrow provides treatment with the patients as his primary focus. Please visit our website at http://www.advanceddentaltmj.com or call us at (662) 655-4868 to schedule a TMJ consultation.